In this webinar we will discuss the highlights from 5 years of Building with Nature in Indonesia, and how this can serve as a lighthouse example for scaling up socially and ecologically inclusive adaptation action!
Indonesia is one of the first countries that embraced the Building with Nature approach, integrating Nature-based Solutions into water related infrastructure. Over 5 years, an inspirational Building with Nature pilot was implemented in Northern Java at a landscape scale aiming to enhance coastal safety and revitalize the local economy.
Wetlands International, EcoShape, the Indonesian ministry of Marine Affairs and Fisheries (MMAF) and the ministry of Public Works and Housing (PUPR) are pleased to invite you to a webinar 'Accelerating Adaptation through Building with Nature Indonesia' taking place virtually as a Zoom Webinar on 19 November 2020.
This event presents the highlights, challenges and lessons learned, and introduces the multi-disciplinary team that designed and implemented the approaches used. We look at replication and spin-off achieved across Indonesia and potential for further upscaling to accelerate adaptation. We will also hear reflections on how the experience from Indonesia can support upscaling Nature Based Solutions globally and inform the way investments are planned, designed and financed.
Watch the video below to find out more.
Programme
Keynote speakers: Hendra Yusran Siry, Secretary of DG Marine Spatial Management from the Indonesian Ministry of Marine Affairs and Fisheries (MMAF), Ardi Stoios-Braken, Minister Plenipotentiary, Embassy of the Netherlands in Jakarta, Jane Madgwick, CEO Wetlands International.
Highlights and lessons learned: Femke Tonneijck, Programme Head Wetlands International
Meet the multi-disciplinary team! Talkshow with consortium partners
Reflections by: M. Natsir, Head of Demak district; Researcher Coastal Engineering, Indonesian Ministry of Public Works and Housing; BINTORO community forum; Henk Ovink, Special Envoy for International Water Affairs of the Netherlands; Henk Nieboer, Director EcoShape; Warthane Puvanarajah, First Secretary Climate and Environment, German Embassy in Indonesia.
Wrap up by: Jane Madgwick, CEO Wetlands International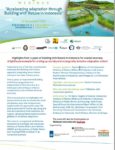 Flyer Webinar Building with Nature Indonesia 19 November 2020
download
Zoom (virtual webinar)
19 November 2020, from 9:00 to 10:30 UTC+1 Amsterdam time (15:00-16:30 UTC+7 – Jakarta time).
The webinar will also be live broadcasted on our YouTube channel!
Read more about Building with Nature in Indonesia and beyond!
Building with Nature Indonesia Consortium:
Building with Nature Indonesia is a programme by Ecoshape, Wetlands International, the Indonesian Ministry of Marine Affairs and Fisheries (MMAF), and the Indonesian Ministry of Public Works and Housing (PUPR), in partnership with Witteveen+Bos, Deltares,  Wageningen University & Research, UNESCO-IHE, TU Delft, Blue Forests, Von Lieberman and Kota Kita, with support from the Diponegoro University, and local communities.
Supported by:
The Dutch Sustainable Water Fund, a programme from the Netherlands Enterprise Agency on behalf of the Dutch Ministry of Foreign Affairs, The German Federal Ministry for the Environment, Nature Conservation and Nuclear Safety (BMU) as part of the International Climate Initiative (IKI), Waterloo Foundation, Otter Foundation, Top Consortia for Knowledge and Innovation, Mangroves for the Future, the Dutch Postcode Lottery and with contributions by all partners.