The relationship between water, peace, and security is attracting increasing political attention. This is reflected in the Planetary Security Conference, The Hague, December 2017 and also in the reports published by us Water Shocks: Wetlands and Human Migration in the Sahel, the World Bank, and the Global High-Level Panel on Water and Peace. However, the role of ecosystems in translating the signal from climatic and hydrological variability into local contexts is still under-appreciated.
In this session, potential solutions for water security, peace and development through good nature resource governance will be examined through several cases focusing on Africa. The session will also discuss the types of solutions needed to ensure that governance of ecosystems contributes to peace instead of exacerbating conflicts.
Convenors
Wetlands International (lead), Forest Trend, IUCN, UNECE Water Convention, UN Environment, Geneva Water Hub (Secretariat of Global High Level Panel on Water and Peace).
Programme
14:00 Welcome by Chris Baker, Programme Head Water Resources, Wetlands International
14:05 Ibrahim Thiaw, Special UN Advisor for the Sahel: video message
14:10 Expert interviews about ecosystems an conflict/peace and solutions
Joseph Bartel, Undersecretary Ministry of Environment and Forestry, South Sudan
Eiman Karar, Senior Advisor United Nations Environmental Programme
Karounga Keita, Coordinator Wetlands International Sahel Office
Lindsey Aldaco-Manner, President World Youth Parliament for Water
14:40 Round table discussions about solutions needed to ensure that ecosystems contribute to peace
15:10 Danilo Türk, Chairman of the Global High-Level Panel on Water and Peace, Geneva Water Hub: final reflections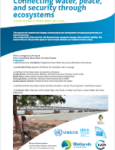 Event Flyer: water, peace, security, and ecosystems at Stockholm World Water Week
download