On 4-7 March, 2018 we will be hosting our triennial Global Member and Stakeholder Meeting in Bhubaneswar, India. The theme of the event is 'Investing in Wetlands for Agenda 2030'.
Why 'Investing in wetlands for Agenda 2030'?
The Sustainable Development Goals (SDGs) clearly signal the need to safeguard and restore wetlands for a sustainable and secure world. However, this is not a simple task. Standard development models do not capture the value of wetlands and different sectors are not always working together.
That's why we are bringing members, governments, finance institutions, development agencies, businesses and knowledge institutes together to define the challenges and solutions for successfully implementing the SDGs.
During the meeting participants will:
Define challenges and solutions for successfully implementing Agenda 2030
Learn about our experiences and ambitions in South Asia
Build new partnerships for increased investments in wetlands
Visit Lake Chilika, one of the first Ramsar Sites in India
Achieve Wetlands International's vision together: a world where wetlands are treasured.
Luc Hoffmann Medal
During the Global Member and Stakeholder Meeting we will be presenting the Wetlands International Luc Hoffmann Medal for Wetland Science and Conservation to an individual who has shown outstanding leadership and accomplishment in an area of wetland research and conservation, or in sharing their passion for wetlands through raising public awareness.
We are currently seeking nominations for the award. Do you know a Wetland Champion? Then please submit your nomination before 31 January!
How to participate
Participation in the Global Member and Stakeholder Meeting is by invitation only. If you are interested in participating in this event please contact Lianne Kusters: [email protected]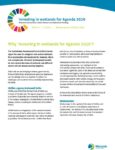 Investing in wetlands for Agenda 2030 - Preliminary programme
download