Join our virtual webinar on 29 June 2021 from 14.00 – 15.00 CEST where we will launch the Waterbird Populations Portal (WPP), an online interactive platform that will make available the most recent data on the status and distribution of the world's waterbird populations. It will provide the latest size estimates and trends of over 2500 populations of over 870 waterbird species and present the latest 1% threshold of each population, data that is vital for effective conservation action globally.
This new Portal will replace the current Waterbird Population Estimates Portal launched in 2012. In this webinar, we present the new and improved open access WPP, which features an interactive interface. The WPP provides boundary maps of waterbird populations useful to identify potential populations in a wetland and prioritisation of sites, directly supporting the designation of Wetlands of International Importance (Ramsar Sites) under the Ramsar Convention on Wetlands based on contemporary 1% population thresholds.
The WPP also supports the identification of flyway network sites under the African Eurasian Migratory Bird Agreement (AEWA), East Asian – Australasian Flyway (EAAF) Site Network, West/Central Asian Flyway Site Network, and Western Hemisphere Shorebird Reserve Network (WHSRN), which all depend on the availability of 1% population thresholds. Increasing the number and area of these internationally important sites contributes to achieving the protected area target of the Convention on Biological Diversity. It also supports the identification of Important Bird Areas & Key Biodiversity Areas worldwide.
The WPP follows the latest taxonomy and threatened species status as published by BirdLife International, the IUCN Red List authority for birds, which has also been adopted by several international treaties.
Regular updating of the waterbird population estimates has been requested by resolutions of the Ramsar Convention to support its Criterion 6 and priorities of the Ramsar Strategic Plan 2016-2024 (Target 6), Convention on Migratory Species and links to The Strategic Plan for Migratory Species 2015-2023 (Goal 3), Council for Arctic Flora and Fauna (CAFF) Arctic Migratory Birds Initiative (AMBI) Work Plan 2019-2023 (Objective 4), AEWA Strategic Plan, East Asian – Australasian Flyway Partnership (EAAFP) Strategic Plan and others.
The development of the Portal has been kindly supported by the Environment Agency Abu Dhabi.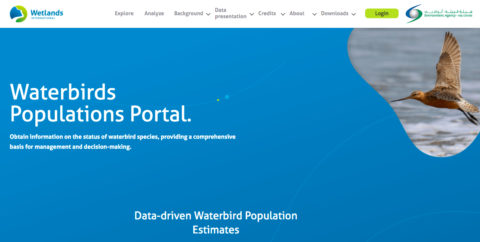 Provisional agenda
Opening and introduction to webinar by Wetlands International
Welcome by Mr Richard Holland, Director of Operations and Network Development, Wetlands International
Presentation on the Portal by Dr. Taej Mundkur, Wetlands International: Overview, basic functionality and future plans
Panel discussion
Opening Statements from invited panel members, including representatives of:
Question & Answers from a global audience
Concluding remarks by Environment Agency Abu Dhabi
Closing and thanks by Wetlands International
Banner image by Tommy P. Pedersen