At Ramsar COP 13, we will participate in the event "Towards a joint peatland declaration: MEAs answer to reverse the trend on peatland degradation" and contribute to strengthening the dialogue on adding peatlands in relevant national commitments. Our CEO Jane Madgwick will moderate the event.
We consider peatlands as treasures. Peatlands provide numerous ecosystem services and play a key role in climate change mitigation and adaptation, and Disaster Risk reduction. We seek global recognition of these critical values, and support the transition to sustainable peatland management. To take these efforts further, we will be participating in this event as a partner of the Global Peatlands Initiative.
Time and place: 18:15-19:30, Room: 5A, Festival Arena
See the full invitation for this event below: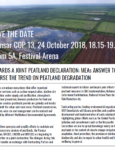 Event Invitation: Towards a joint peatland declaration Ramsar COP 13
download
See the full list of all our events at Ramsar COP 13 here.