The objective of this side-event is to find an answer to: How are we going to make our water services more resilient in an increasingly water insecure world?
Seasoned practitioners and young experts will analyse three case studies from Ethiopia, the Philippines, and Mali and share best practices that can help cope with this complex problem especially in urban settings.
For details of the speakers and the agenda, please see the invitation below.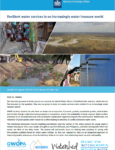 Invitation: Resilient water services in an increasingly water insecure world
download