On 26 September 2021, also World Rivers Day, we invite you to join us in discussion at the Africa Climate Week. Our event Safeguarding wetlands as risk-based approach will discuss the opportunities in restoring wetlands towards making Sahelian communities more secure and resilient to climate change and conflict as part of the region's wider development and climate change adaptation initiatives.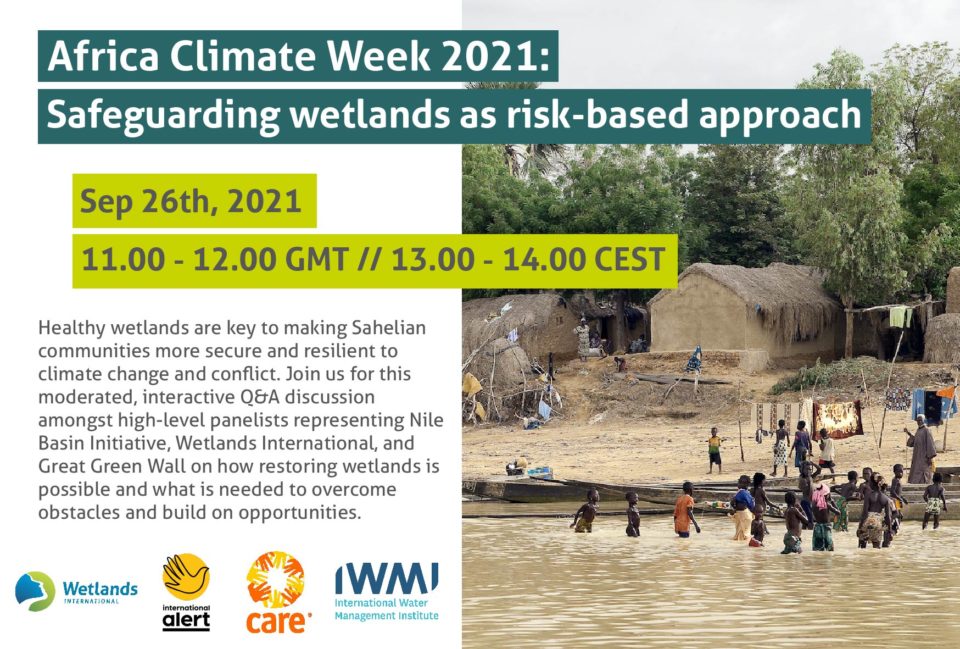 Wetlands are the most rapidly declining ecosystems in the world. While we see increased recognition on safeguarding wetlands as carbon sinks and key climate buffers, few climate initiatives yet identify the need to protect, restore and sustainably manage these ecosystems.
As climate change intensifies wetlands are coming under even more pressure. This affects the livelihoods of many rural communities in the Sahel and in the Horn of Africa, driving and increasing tensions between communities over access to natural resources.
Urgent action is needed to head off the risks to the people in the concerned countries. Blue Lifelines in a Secure Sahel is a transformative initiative aimed at revival of 20 million hectares of wetland systems by 2030, reducing conditions for conflict and migration, and benefitting the livelihoods of over 10 million people in the Sahel and Horn of Africa.
The event, co-organised by Wetlands International, International Alert, CARE, and International Water Management Institute (IWMI), seeks to engage panelists from different levels in discussing how restoring wetlands contributes to making Sahelian communities more secure and resilient to climate change and conflict. Panelists will discuss what is already happening, what obstacles they face and what opportunities they see by adding value to existing climate change adaptation, land degradation and wider development initiatives across the region.
Agenda
Welcome & Introduction by Olufunke Cofie, Regional Representative West Africa – International Water Management Institute (IWMI) & Julie Mulonga, Director of Wetlands International Eastern Africa
Video on the importance of wetlands for livelihoods and what communities are doing to safeguard and restore wetlands in the Inner Niger Delta in Mali
Panel discussion
George Sanga Kavulunze of the Global Water Partnership Eastern Africa (GWPEA), based in Uganda, on how safeguarding wetlands is possible and their work to address challenges and build on opportunities
Karounga Keïta of Wetlands International (WI) Sahel Office, based in Mali, on safeguarding wetlands through the Blue Lifelines in a Secure Sahel (BLiSS) initiative
Paul Elvis Tangem of the Great Green Wall Initiative (GGWI), based in Ethiopia, on what is being done to restore wetlands, challenges and opportunities, and how these are being addressed
Question & Answers with a live audience
Closing remarks by Olufunke Cofie
The language of the session is in English.