Wetlands International, Commonland and the Landscape Finance Lab recently joined forces to accelerate landscape regeneration so that nature and people thrive. We are currently seeking a Joint Programme Manager for our new "4 Returns Programme". In this exciting new role you will be at the heart of our efforts to accelerate landscape restoration.
Reporting to: Chief Executive Officer of Wetlands International
Full-time: Full-time, 36 hours
Location: Global Office, Ede-Wageningen, Netherlands, with option to be periodically based at offices of Commonland
Salary: Competitive, depending on expertise/experience
Background
Significant barriers exist in the form of complex methodologies, lack of investable projects and difficulties to access finance. We intend to address the core issues that prevent a systemic approach by building trust in a common methodology, demonstrating this in key landscapes and designing integrated financing systems at landscape scale with initial focus on carbon payments. In this context we will develop, test and promote the 4 Returns Framework and 4 Returns Finance tools.
The three collaborating organisations are recognised innovators in integrated landscape management and each supports a global portfolio of landscape partnerships and programmes. A common set of ideals bind us: ambition at scale; a desire to see real impact in landscapes; delivery of multiple returns based on a holistic approach; and mobilising collaboration across sectors. Wetlands International is leading our first joint programme to "Accelerate landscape restoration and holistic management" on behalf of the three organisations.
Purpose of the role
As a Joint Programme Manager you will lead our joint strategy development, ensure effective delivery of planned results, enable synergy and alignment between individual organisation efforts, represent our partnership externally and develop the programme further. You will support the leadership and staff of Commonland, Wetlands International and Landscape Finance Lab to achieve synergies in delivering the "4 Returns Programme" and to ensure its long term success.
Additionally, you will be responsible for Wetlands International's contribution to the programme and will act as an ambassador of the 4 Returns approach within the Wetlands International network. Wetlands International's ambition over the next five years is to recover ten large wetland landscapes – and to mobilise others to follow suit – to benefit local communities, the economy and nature.
Both positions may eventually evolve into fulltime positions pending programme development and fundraising.
Responsibilities and tasks
Joint programme management (50% while varying over time)
Strategy. Leads the preparation of project strategies and helps translate these into real impact on the ground that catalyses further restoration, in close collaboration with the two CEO's of the organisations and senior staff.
Coordination. Provides oversight, coordination, support and backstopping for delivery of activities and deliverables. Ensures information systems allow for cross-collaboration.
Synergy. Stimulates synergies between team members to seize key opportunities and overcome challenges across the three organisations and their partners and landscapes. Ensures alignment on common values and approaches
Fundraising and investor engagement. Supports fund mobilisation staff of each organisation to mobilise funding and engage investors for integrated landscape management.
Administration. Ensures the set up and timely delivery of the project and is responsible for technical and financial reporting towards donors. Prepares and manages project budgets.
Representation. Represents the partnership externally as appropriate, is point of contact for key partners such as 1000 landscapes and oversees stakeholder engagement and partnership development.
Other duties as appropriate.
4R lead Wetlands International (50%)
Lead. Is responsible for Wetlands International's contribution to the partnership and ensures timely and satisfactory delivery, with a focus on advocacy and impact on the ground through landscape partnerships and shaping best practices. Coordinates the Wetlands International team.
Integrate. Ensures that wetlands and water resilience become an integral part of our common 4R methodology, building on and disclosing Wetlands Internationals longstanding track record and in close collaboration with the global network. Is chief content editor for Wetlands International.
Implement. Establishes the necessary processes for landscape project and partnership development, implementation, monitoring and evaluation within Wetlands International. Facilitate knowledge sharing and joint learning within the global network.
Champion. Champions the 4R approach to the Wetlands International global network, members and strategic partnerships. Ensures the approach is embraced within the organisation and adopted in new landscape partnerships.
Other duties as appropriate.
Working relations
While the Joint Programme Manager will not have direct line management responsibility, (s)he will be responsible for coordinating approximately 15-20 staff across the three organisations. As such, the Joint Programme Manager will work closely with staff from the participating organisations, that each leads and/or contributes to specific activities within the programmes.
The Joint Programme Manager is employed by Wetlands International on behalf of the partnership to enable joint programme management. The Steering Committee that consists of the CEO of Commonland and Wetlands International will provide regular strategic advice and guidance and sign off on relevant plans and reports. As lead for Wetlands International, the Joint Programme Manager is specifically accountable to the CEO of Wetlands International regarding Wetlands International's contribution to the partnership.
Profile
The Joint Programme Manager is a dedicated and strategic leader who thrives in connecting and working with international teams to achieve positive impact for people and nature. The ideal candidate is decisive, pro-active, entrepreneurial, creative and collaborative, able to work in emerging and quick-changing contexts. They will have a strong track record in mobilising landscape restoration and conservation and will have demonstrated effectiveness in programme delivery with international teams.
Education and Experience
A minimum of 10 years' experience in project and team management, and in coordinating the development and implementation of climate and/or development programmes.
Holding a higher degree in sustainability, environmental sciences, international development, economics or equivalent.
Excellent understanding of and experience in landscape approaches and their success factors including in building partnerships and developing multi-stakeholder mechanisms.
Strong knowledge of wetlands and/or water resilience.
Strong track record in virtual team leadership and online community development.
Strong writing essential, ideally journalistic skills.
Demonstrated evidence of leadership in the design of large donor concept notes and project proposals.
Experience in working with the private sector and private finance is an advantage.
Understanding of and experience in climate finance including carbon project development and/or credit sales an advantage.
English is the working language. Fluency in a second language (eg. French, Spanish, Bahasa Indonesia) is an advantage.
Core competencies
Leadership. Develops and uses effective strategies, change management and interpersonal skills to influence others toward the accomplishment of identified objectives. Creates an environment that promotes and encourages change or innovation.
Planning and Organizing. Defining tasks and milestones to achieve objectives, while ensuring the optimal use of resources to meet those objectives. Develops strategic plans considering short-term requirements as well as long-term direction.
Networking / Relationship Building. Building and actively maintaining working relationships and/or networks of contacts to further the goals of our organizations. Brings informal teams of experts together to address issues/needs, share information and resolve differences, as required.
Entrepreneurship. Transforms innovative ideas into actions that achieve business or people results. Acts proactively in contact with (potential) partners and donors when opportunities arise.
How to apply
To apply for this vacancy, please send us a resume and an application letter indicating your motivation to Jozefa van der Veen, HR Officer [email protected] Please mark in the subject: "Application – Joint PM 4R Programme". Questions about the vacancy and/or procedure can also be sent to this email address.
Deadline for the application is Sunday 14 November 2021. Interviews will take place in the week commencing 22 November 2021.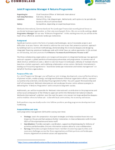 Programme Manager 4 Returns Programme
download