Are you the financial with a recognised financial qualification and accounting experience in a project driven organisation, strong creative and problem-solving skills and an do you have ability to explain financial issues to non-financial management? Do you have a proactive attitude and are you willing to further develop knowledge and expertise in this field. You need to be comfortable working in an international setting and have an interest in environmental conservation and sustainable development.
Wetlands International is looking for a Project Controller to join its Financial team. In this role, you will be at the heart of efforts to monitor projects to conserve and restore wetlands for people and nature.

About us
At Wetlands International, we are dedicated to safeguarding and restoring wetlands so that these unique habitats are treasured and nurtured for their beauty, the life they support and the resources they provide. We work to conserve and restore diverse wetland systems in all parts of the world, ranging from coastal wetlands such as mudflats and mangroves to freshwater systems all the way up to the mountains, including peatlands, marshes, rivers and floodplains. To make a global difference and ensure sustainable wetland management across land and seascapes, we inspire and mobilise society to act and influence levers of change.
Profile
See the Terms of Reference (ToR) Project Controller separately attached below
Job Offer
Full-time job, 36 hours per week.
Salary Gross: Euro 2.900 – Max.3.800 based on a fulltime contract.
Contract duration: One year, options for extension.
Location: Global Office in Ede- Wageningen, The Netherlands.
Start date: a.s.a.p.
How to apply
To apply for the post, please send an application email with "Project Controller" as the subject to [email protected] with the below two documents in English:
A letter of application (no more than 2 pages) stating your motivation for this position and your demonstrated skills and experience for this post,
Your resume /CV (no more than 3 pages, without photos).
Questions about the vacancy and/or procedure can also be sent to this email address.
The deadline has passed. We are interviewing several candidates at this moment.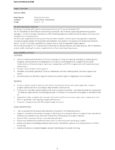 Project Controller - Terms of Reference (ToR)
download