Are you a mangrove expert and do you want to guide policymakers, planners and practitioners towards the adoption of more sustainable and inclusive approaches to the conservation and restoration of mangrove ecosystems? You are who we are looking for!
This is the job you have been looking for!
Reporting to: Programme Manager, Coasts and Deltas
Full-time/Part-time: Fulltime, 36 hours per week, Consultants also considered
Duration: 12 months, renewable
Location: Global Office, Ede, The Netherlands; other locations can be considered for exceptional candidates
Salary: Competitive, dependent on experience
About us
At Wetlands International, we are dedicated to safeguarding and restoring wetlands so that these amazing habitats are treasured and nurtured for their beauty, the life they support and the resources they provide. At the heart of our vision is a plan to drive the sustainable management and recovery of wetland landscapes at scale. We work to conserve diverse wetland systems in all parts of the world, ranging from coastal wetlands such as mudflats and mangroves to freshwater systems all the way up to the mountains, including peatlands, marshes, rivers and floodplains. To make a global difference, we seek to inspire and mobilise society to act and influence levers of change.
Your role
In recent years, mangrove restoration has become hugely popular. Unfortunately, over 80% of restoration efforts fail, due to the adoption of ill-informed restoration measures. As part of our ongoing mangrove programme, we are helping the mangrove community to adhere to mangrove restoration best practices that are cost-effective, scalable and sustainable. Complementing our demonstration projects across the tropics, and building on an extensive track record, we are currently developing a One-Stop Shop Global Mangrove Restoration Guideline. Working with our Global Mangrove Alliance partners, leading scientists and practitioners worldwide, this guideline seeks to inform practitioners, planners and policymakers alike.
As a Technical Officer – Mangrove Restoration, you will join the Deltas and Coasts team and, working with our partners, you will drive further development, adoption and endorsement of this guideline. Subsequently, you will help the mangrove community to integrate guideline best practices into their daily work. Target user groups will range from civil society organisations and government agencies to carbon project developers, international organisations, engineering firms and aquaculture farmers. As a member of the Deltas and Coasts team, you will work closely with both the Advocacy and Communication and Wetland Carbon teams, as well as with your colleagues across the network, connecting science to policy and practice.
Your role will initially focus on:
Coordinating the development of the Global Mangrove Restoration Guideline with internal and external contributors and partners, including academia (e.g University of Queensland), civil society (Conservation International and other global Mangrove Alliance partners), international organisations (e.g FAO, ASC) and private sector partners as an online resource;
Providing content leadership, ensuring that key messages from the guidelines follow recent scientific insights, build on Wetlands International's experience and are readily understandable by the target audience;
Acting as lead editor, together with peers from the University of Queensland and Conservation International, ensuring a perfect fit between the different sections and modules of the guideline, as well as good alignment with existing guidelines;
Coordinating the review process with end users and partners;
Providing expert advice for the development of communication and awareness-raising material.
Once the guideline evolves, you will focus more strongly on getting the guidance used and understood by the mangrove community.
Your role could evolve to:
Guiding the development of an online Global Guideline environment, providing user journeys for specific audiences (e.g. project developers, investors, governments);
Driving guideline integration into implementation protocols of target audiences;
Leading the development of training materials, and their translation to multiple languages;
Providing training and continuous guidance to a growing user group and advising on project development initiatives;
Providing technical assistance and advice to user groups, including the feasibility of mangrove restoration, due diligence on mangrove restoration proposals and implementation,
Developing and leading a mangrove restoration community of practice where best practices are shared, feeding the continuous improvement of the guideline, and inspiring a growing global movement
Your Profile
See Terms of Reference (ToR) Technical Officer (TO) sepereately attached
How to apply
To apply for this vacancy, please send us a resume and an application letter indicating your motivation to Jozefa van der Veen, HR Officer [email protected]. Please mark in the subject: "Application – Technical Officer – Mangrove Restoration". Questions about the vacancy and/or procedure can also be sent to this email address.
The deadline for the application is 31 January 2023.
Terms of Reference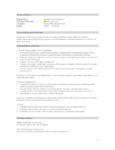 Terms of Reference: Technical Officer – Mangrove restoration
download