The 10 community groups, which have supported Building with Nature measures in our project in Demak district to restore the eroding coastline, are now organised in the ocean management forum Bintoro (Bina Noto Segoro) Forum. Bintoro" stands for "Bina Noto Segoro", Javanese words, which means "To Manage the Sea".
Bintoro houses several coastal village community groups in the villages of Bedono, Timbulsloko, Surodadi, Tugu, Tambakbulusan, Morodemak, Purworejo, Betahwalang and Wedung and developed an independent statement on addressing the coastal erosion in Demak.
They just released their own independent statement on the coastal situation in Demak. The statement is very balanced and calls for safeguarding the mangroves while addressing root causes of the problems. It is the result of several years of interaction with the communities in Demak on coastal protection measures, supported by Wetlands International on behalf of the Building with Nature project Consortium in Indonesia.
Have a look at their statement here (subtitles in English). In their statement they call for safeguarding the mangroves while addressing the root causes of the problems like unsustainable water extraction leading to land subsidence. Land subsidence accelerates coastal erosion along the coast, and undermines efforts to rehabilitate the mangrove forest to halt erosion and aquaculture to boost the economy. This statement has been shared with the Demak Government.
Being organised in the forum allows the community to network with the government. In addition, the forum is a mechanism to receive funding to ensure sustainability of Building with Nature interventions. The Demak District Government has already allocated budget to support the local government financially for the maintenance of permeable structures for the coming 3 years to be carried out by community groups. Budget has also been allocated by district and village governments for mangrove rehabilitation and aquaculture revitalisation.
Pernyataan Sikap Forum Bintoro atas Permasalahan di Wilayah Pesisir Kabupaten Demak dan Harapannya ke Depan

Kami mendapatkan kiriman video pernyataan sikap inisiatif dari Forum Bintoro (Bina Noto Segoro), yaitu sebuah forum yang menaungi beberapa kelompok masyarakat di 9 desa pesisir di Kabupaten Demak. Secara ringkas, sikap ini dilatarbelakangi berbagai permasalahan lingkungan dan ekonomi di wilayah pesisir Kabupaten Demak, seperti abrasi, banjir rob, penurunan muka tanah, dan daya dukung lingkungan yang terus menurun dalam beberapa dekade terakhir. Kemudian, munculah setidaknya 3 harapan utama yang tertuang dalam pernyataan sikap mereka. Pernyataan sikap ini juga telah mereka kirim kepada Bupati Demak. Semoga pernyataan sikap ini dapat memunculkan saling pengertian, lalu mempengaruhi sikap, meningkatkan hubungan sosial yang baik dan pada akhirnya menimbulkan suatu tindakan bersama secara sinergis.Secara lengkap dapat disimak pada video berikut ini.

Geplaatst door Wetlands International Indonesia op Woensdag 11 maart 2020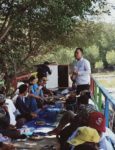 Petition of the Bintoro Forum Demak

download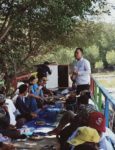 Petition of the Bintoro Forum Demak bilangual

download