Abdoulaye Ndiaye of Senegal is being awarded the 2015 individual Conservation Award by the African Eurasian Waterbird Agreement (AEWA). Abdoulaye was a long-time staff member of Wetlands International and currently acts as an Associate Expert. The award will be presented at the AEWA Meeting of the Parties taking place in Bonn, Germany from 9 to 14 November.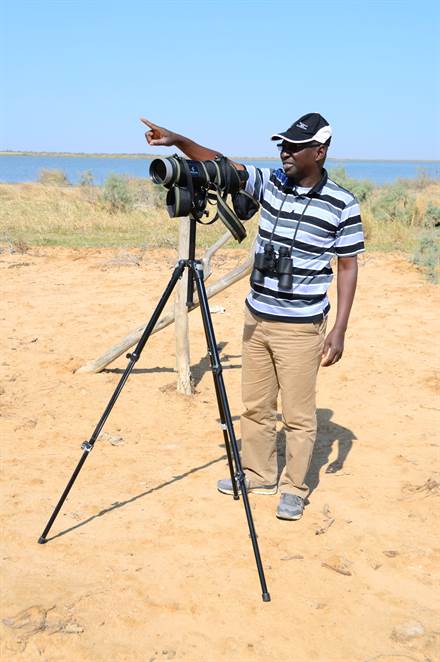 Abdoulaye Ndiaye has worked in over 30 countries in Africa and made invaluable contributions to wetland and waterbird conservation. Wetlands International CEO Jane Madgwick lauded the selection of Abdoulaye, who was trained as a military officer before joining the national parks department and achieving the rank of colonel, for this award.
"Colonel Abdoulaye's dedication, experience, infectious enthusiasm and special communication skills have helped to shape the work of Wetlands International in West Africa over the last two decades. He is a talented communicator and true champion of waterbirds and wetlands. This individual AEWA award is well deserved."
During his professional career with Wetlands International Abdoulaye designed and managed projects and worked as a trainer in wetland management. He was responsible for design and implementation of the first wetland management plan in West Africa for Djoudj National Park in Senegal, one of the largest bird sanctuaries in the world.
He was also instrumental in organizing Wetlands International's second International Conference on Wetlands and Development held in Dakar in 1998, an event which helped set the implementation priorities for AEWA which at that time was about to enter into force.
Abdoulaye has successfully lobbied to promote the implementation of international conventions and agreements that are critical for conserving wetlands and waterbirds (e.g. Ramsar, Bonn, AEWA and Biodiversity Conventions) with government and non-government agencies. He also persuaded some key countries to join the Ramsar Convention and AEWA.
In additional to being an Associate Expert of Wetlands International, Abdoulaye currently holds the chair of the AEWA Lesser Flamingo International Working Group. Abdoulaye also heads the AEWA Technical Support Unit which is responsible for  implementing the Plan of Action for Africa, turning AEWA objectives into results on the ground.
Statement of Abdoulaye Ndiaye
''I have just been informed that I have been rewarded with the 2015 AEWA Individual Award for my humble involvement in wetlands management and monitoring of waterbirds in Africa and around the world.
My thanks and thoughts go to my family, but most especially to my parents, who provided education and guidance to me, my wife and my children for their availability and their anguish as a result of my frequent absences.
I extend my gratitude to the Government of Senegal, through the Ministry of the Environment and Sustainable Development as well as the National Parks Department.
The most significant step has been my experience at Wetlands International which has sharpened my skills and experience in this specific field.
My thanks to the whole Africa for the unfailing support in all my activities.
This prize is especially dedicated to General Mohamadou Keita for his coaching and continuous monitoring as my reference in strengthening my skills acquired throughout my career. And finally to all (friends and colleagues) among whom the AEWA Technical Support Unit (France-Senegal), I say, thank you!"