The book 'Barr Al Hikman: shorebird paradise in Oman' is the outcome of ten years of intense research in the Barr Al Hikman wetland area and its biodiversity. Through the enthralling photos by the famous wildlife photographer Jan van de Kam, the book delineates the astonishingly rich diversity of life forms that the wetland nurtures. At the same time, it aims to emphasise that this pristine wetland of global importance requires greater international recognition and systematic management to ensure its long-term protection.
Comprised of intertidal mudflats, reefs, "sabkhas" or salt flats and associated coastal wetlands, the Barr Al Hikman peninsula in Al Wusta province in Oman is the most critically important area for waterbirds in the West Asian – East African flyway, sustaining over half a million waterbirds. In collaboration with experts from Radboud University, University of Groningen, NIOZ-The Royal Netherlands Institute for Sea Research in the Netherlands along with independent researchers, Wetlands International have been working on a series of surveys in this area over the last years, in line with annual International Waterbird Census in January and during the migratory periods.
These efforts are locally supported by the Ministry of Environment and Climate Affairs of Oman, Sultan Qaboos University, and others. The research has unfolded a wonderful story of a healthy functioning coastal ecosystem with thriving biodiversity and has enriched the book with its detailed findings.
On 12 November 2018, as part of Oman's 48th National Day celebrations, with the patronage of H.E. Mohammed bin Salem bin Said Al Tobi, Minister of Environment and Climate Affairs, in collaboration with the Ministry and Wetlands International, hosted the official launch of this publication. The book is jointly authored by Jimmy de Fouw, Roeland Bom, Andrew Thorpe and Raymond Klaassen with Ward Hagemeijer from Wetlands International.
We trust that the publication of this book will help underline the significance of Barr Al Hikman, the jewel of the West Asian – East African flyway, which is one of the least well-known flyways of the African – Eurasian region. Barr Al Hikman serves as a major resting and feeding area for hundreds of thousands of shorebirds nesting across arctic Russia and Central Asia. In addition, it is an important nesting area and serves as a 'centre' where many waterbird species meet from east and west.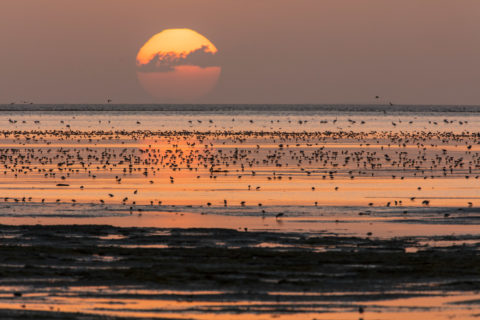 According to the book, "All along the coasts of the Arabian Peninsula, many important intertidal areas have been degraded by human impact. Over time, therefore, the relative importance of Barr Al Hikman has increased at both regional and global scales." With the recent announcement by the Ramsar Convention that 35% of wetlands are lost since 1970s with a quarter of its species at risk of extinction worldwide, nothing can be more urgent at this point than to take immediate action to protect Barr Al Hikman.
Read the book online here.