Indah Purwanti, a female aquaculture farmer from Purworejo Village in Demak District, never thought that learning about environmentally friendly aquaculture and mangrove conservation from the Building with Nature programme would also raise her self-confidence and leadership capacity, but it did. Armed with this confidence, Indah was ready to become a member of the Village Consultative Body (Badan Permusyawaratan Desa), the main task of which is to determine the direction of village development. She believes that as a member of this institution she will be able to play a stronger role in conserving the mangrove and coastal environment of her village.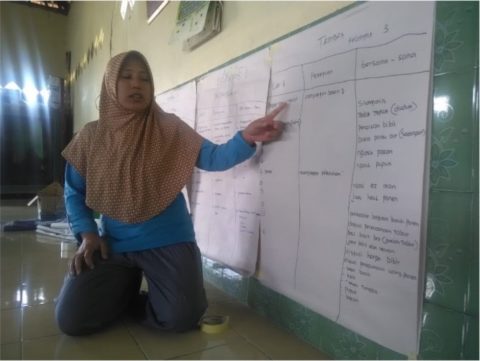 "After joining the Building with Nature Indonesia programme, I feel more confident when speaking in public. In the beginning, as the group leader I had to lead routine group meetings held every month. Later I was also better known outside the group. According to some residents, I am considered as having leadership skills."
– Indah Purwanti
Indah and several female farmers from Purworejo Village joined the group that participated in the Bio-rights mechanism used by the Building with Nature programme. Together they formed the only women's group, Kartini Bahari. Indah's initial motivation to join was to learn about mangrove rehabilitation and environmentally friendly aquaculture practices. In addition, she hoped her involvement would increase her self-confidence, especially when it came to speaking in public. Indah wanted to have the courage to speak and argue like the mostly male community leaders in her village.
The coastal field school activities provided the opportunity for farmers to gain knowledge about boosting aquaculture practices while protecting mangroves and enhancing climate resilience. This is very useful knowledge for women like Indah, because it can be directly applied in the aquaculture ponds which until now have mainly been managed by men. Indah and members of her group also learned various techniques for processing aquaculture products and fish catches that have high economic value. These processed products, including fish, shrimp, milkfish, and squid, are now being marketed through the Lazada online platform.
Equally important, the coastal field schools also provided opportunities for farmers to stay in touch and learn from each other, especially from more experienced farmers.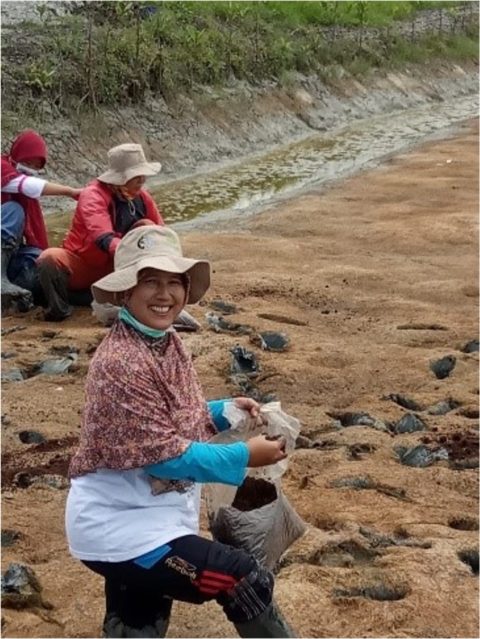 What impressed Indah most after joining the program was how she changed from being insecure to being confident and daring to speak in public. This began when she was elected as head of the Kartini Bahari group, which required her to lead the group's monthly meetings. She was also required to speak on behalf of the group in various larger discussion forums. Other farmers saw Indah's leadership potential and conveyed this to her. No wonder she was elected as a member of the Village Consultative Body in November 2021.
The trust shown by residents in choosing her as a member of the consultative body is exciting for Indah and makes her optimistic that she can take on a more important role in advancing the development and conservation of the village's mangroves and coastal area. The Village Consultative Body also seeks to develop a wide network to support village development. For example, recently a collaboration was agreed with the Rumah Ilham organisation in order to improve village waste management.
Building with Nature
From 2015 to 2021, a landscape-scale implementation of the Building with Nature approach was implemented in Demak district, Indonesia. We restored coastal and riverine mangroves to halt coastal erosion and boosted the local economy by introducing mangrove-friendly aquaculture practices. Besides engineering interventions, we engaged deeply with stakeholders to address the root causes of coastal breakdown and deliver multiple benefits to coastal communities.
Through the Bio-rights mechanism, we gave communities financial and technical support to change aquaculture methods or invest in alternative livelihoods in return for their active engagement in conservation and restoration and engaged them in village development planning.