Suriname is known as the greenest country on earth, but is also one of the seven globally most endangered countries by sea level rise. On May 17th 2016 a  Building with Nature project in Suriname was kicked-off by Professor Sieuwnath Naipal, Conservation International Suriname and local donors to protect the coastline against the flooding from rising seawater and salinization of arable land. The approach is a replication from the Building with Nature programme in Central Java to bring a halt to coastal erosion.
The Building with Nature project in Suriname takes place at Weg naar Zee. The Weg naar Zee area in Paramaribo is the vegetable garden of Paramaribo, has numerous fisherman and harbors two religious sites, but has become amongst the most endangered areas in the whole of South America and Caribbean. All of this is under threat.
Professor Naipal from the Anton de Kom University in Suriname foresaw the challenges and started to build a pilot wooden dam at the Weg naar Zee resort. He made a permeable dam from walaba poles and bamboo fillings, measuring 100 meter width, 200 meter in length, 2 meter in height and 0.5 meter in depth. The dam captures sediment and helps to establish a healthy sediment balance.  Once the near shore bed level has sufficiently risen, mangroves will regrow, developing a natural water defense protecting the hinterland against flooding and further erosion.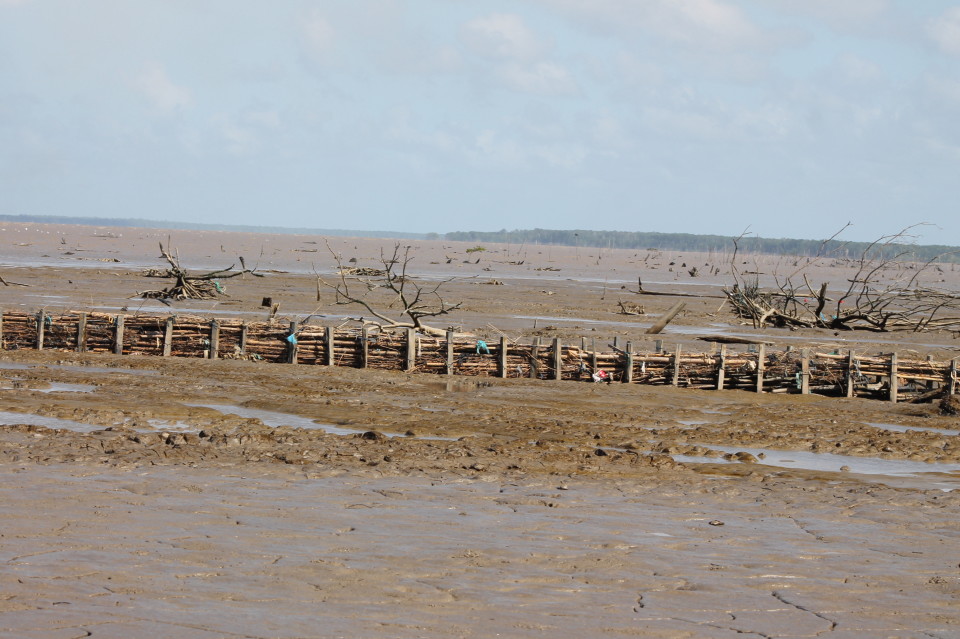 This is similar to the technique used by Wetlands International, Ecoshape and the Indonesian government in partnership with Deltares, Witteveen + Bos, and other partners to stop coastal erosion in Central Java. Professor Naipal studied the technique and asked the local Conservation International (CI) office for support. CI Suriname, through its local business-funding program Friends of Green Suriname, funded the initial USD 15,000 to build one wooden dam. During the process the Conservation International Suriname office reached out to Wetlands International for knowledge sharing and synchronizing monitoring protocols.
This contact developed into cooperation with regard to Building with Nature projects. As a token of companionship Wetlands International and Conservation International Suriname jointly presented their respective cases in Indonesia and Suriname at the recent Adaptation Futures Conference in Rotterdam (May 10-13, 2016).
Almost a year after the initiation of the pilot project Professor Naipal's theory proved to be successful. Within 9 months there was enough sediment for new mangroves to help nature restore its original coastal line. The success of the project attracted new, local donors to invest USD 200,000 for the construction of additional sediment trapping units in the coming months.
At May 17th Professor Naipal, Conservation International Suriname, and its new donors the Dutch Embassy and Staatsolie Foundation kicked off the construction of the new wooden dams and officially opened the Building with Nature project in Suriname by the ramming of the first six walaba poles.
More information:
Watch this short video about the project in Suriname: