With Ethiopia currently in a State of Emergency, our work ensuring the equitable and sustainable sharing of water in Oromia's Rift Valley Lakes is more relevant than ever. We travelled to the area in August, just as the groundswell of protest took off, and continue to work with our local partners to save Lake Abijatta.
A vision for Ethiopia's Abijatta-Shalla Lakes National Park
Abijatta-Shalla Lakes National Park should be one of the premier national parks in Ethiopia. Situated 200 kilometres from the capital of Addis Ababa, it is set in the magnificent Rift Valley lakes landscape, nearby the (formerly) popular tourist lodges around Lake Langano.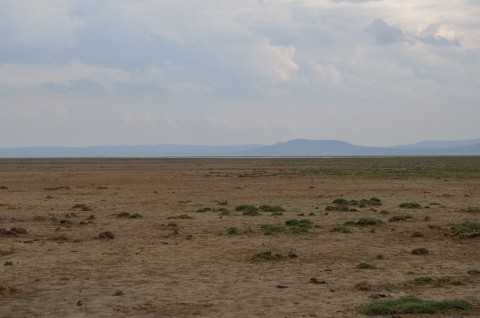 But standing on the former shoreline, I could barely see the receding water off in the distance. Or was it a mirage? Instead of abundant wildlife around me, what I saw was a Serengeti of livestock grazing: herds of goats, sheep and cows eagerly devoured what was left of the grasses. Hungry dogs and children sized me up with suspicious looks – well over 50,000 people are living, herding and farming in the park. Along the bustling main road outside the park, the overwhelming population pressures and rural poverty were palpable.
What about the park rangers? We passed a few idling by the entrance. I was told there are 50 rangers, with a total of two vehicles and no motorbikes between them, covering the 88,700 ha park, which includes lakes Abijatta, Shalla and their surroundings.
This is a far cry Lake Nakuru, Kenya's Rift Valley lake national park, that it dubs itself "The Bird Watchers' Paradise," featuring greater and lesser flamingos as flagship species along with large mammals such as lions and Black & White Rhinos. With more than 300,000 visitors a year, this is one of Kenya's most profitable parks. Is the example of Nakuru a realistic comparison as a long term vision of what the Abijatta-Shalla National Park can aspire to?
When I spoke to a researcher from the Ethiopian Wildlife Conservation Authority (EWCA), I received a sobering assessment summed up as: "so many problems, nothing is functioning." Within the Abijatta landscape, the Leopard has been extirpated, and only some Grant's Gazelle, Greater Kudu, Ostrich and Warthog are reputed to still roam in the fenced core of the park.
But what Abijatta-Shalla currently lacks in mammals, it is Nakuru's equal when it comes to birds and a stunning "Out of Africa" setting. In 2010, our Wings Over Wetlands project identified Abijatta-Shalla as the most important Critical Site in Ethiopia for waterbirds. Nearly 460 species of birds, including six near endemic species, have been recorded in the park. The alkaline waters of lake Abijatta once attracted up to 200,000 Lesser Flamingos.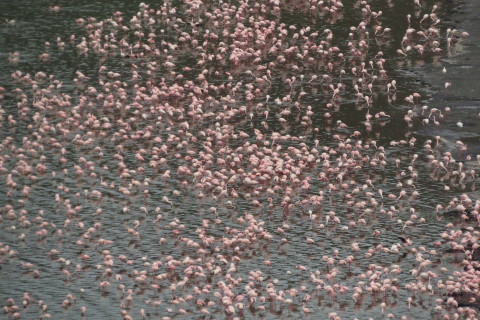 Pumping Lake Abijatta dry
Right now, any comparisons to Lake Nakuru are just a dream. The lake is dying and most of the flamingos have gone elsewhere – only 25,000 were found in the last count. The lake was formerly 170 km2, but in December 2015 it reached an unenviable distinction – it had shrunk to under 100 km2, and the depth had gone from a maximum depth of 14 metres to five metres. At this rate, I was told the lake could be gone within eight to ten years.
The main causes of Lake Abijatta's demise are clearly visible – too much water is being pumped. The Bulbulla River connects Lake Abijatta to its main source of water, the much larger freshwater Lake Ziway. Travelling upstream around the Bulbulla, I glimpsed pump after pump, some of the estimated 5,000 that are part of the unregulated free-for-all of water withdrawals for small scale agriculture. The scale of the water pumping appeared even more overwhelming as we drove around the southwest corner of Lake Ziway. The greenhouses of agri-business giant Sher Ethiopia stretched as far as I could see, with even more under construction. Sher cultivates 'sustainably grown' Fair Trade certified roses, irrigated with water pumped from Lake Ziway. According to the company, 3-4 million roses are harvested every day and flown to the Netherlands for sale in Europe.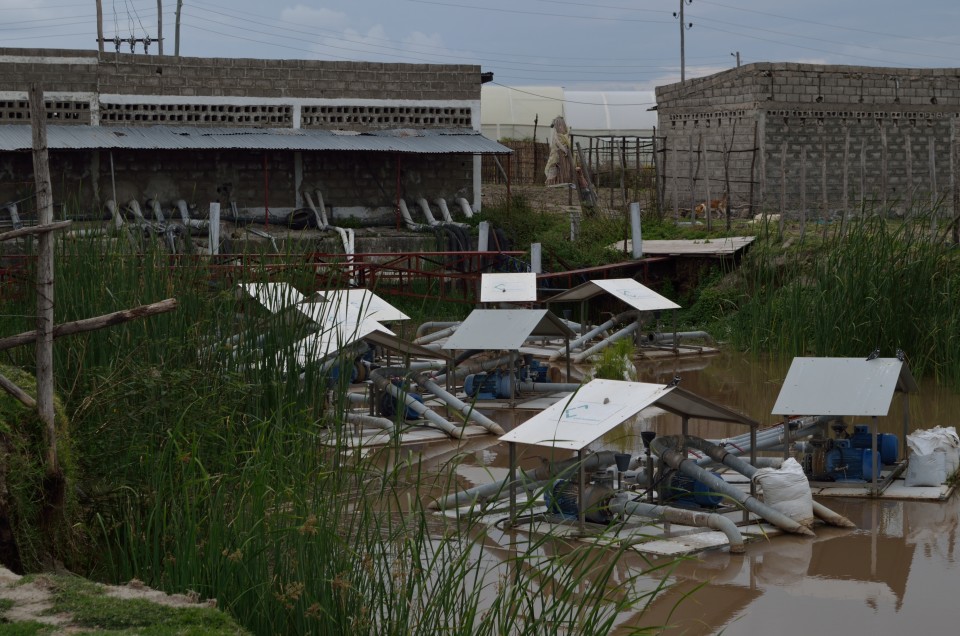 Studies have shown that the massive amount of pumping for irrigation is causing falling water levels in Lake Ziway. And if expansion continues, it is expected that Ziway will no longer be able to feed water into the Bulbulla River – cutting off the main source of freshwater into Lake Abijatta.
And even the salty waters of Lake Abijatta are sought after by a soda ash factory on its shores. While irrigation is a much bigger water user, the soda ash factory has ambitions to expand its operations –and water use – tenfold.
Saving Lake Abijatta
The Rift Valley lakes are part of Ethiopia's identity and an important draw for tourism. The plight of shrinking Lake Abijatta and the prospect of its disappearance is finally starting to ring alarm bells.
The Rift Valley Lakes Basin Authority (RVLBA) was created two years ago to manage the waters of the rift valley lakes. The Director General described Abijatta to me as a lake that is disappearing before his eyes. To address this, RVLBA is proposing an urgent study this year to understand all the factors on why it is drying up. However, RVLBA has a short track record and they are still collecting basic data. Water management on a basin scale is a recent development in Ethiopia, and RVLBA is not in a position to stop the over pumping of water on its own.
Under our Climate Resilient Flyways project, we are working with our local partners to help save Lake Abijatta, starting with building the capacity and knowledge base of RVLBA, and to assist them in bringing together all the stakeholders around the lakes to understand the problems and develop solutions.
This is a decisive moment for Lake Abijatta. To save it will require sustainable and equitable sharing of water at a time of growing demand: irrigation for a rapidly growing population and foreign investment, industrial users such as soda ash, and the wildlife and tourism potential of the national park.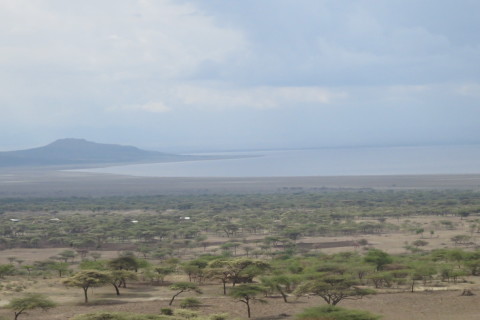 When I put the question of what was needed to save the national park to the EWCA researcher, he was understandably daunted by the enormity of the challenge. But after a moment of thought he resolved that "coming together, and fighting together" on behalf of the park would make the biggest difference. This is the start of our engagement to do just that.
This project is supported by the International Climate Initiative on the basis of a decision adopted by the German Bundestag.