I still remember the first time when I met Supardi (47 years old) on the first day of the Coastal Field School Training of Trainers (CFS ToT). He is one of the twenty-one participants selectively recruited to be community organisers for the aquaculture revitalisation program, which is part of Building with Nature (BwN) to reduce coastal erosion in Demak.
This programme provides coastal resilience by combining smart engineering and mangrove rehabilitation,while introducing sustainable land use practice. In Demak we aim for sustainable revitalisationof 300 ha of degraded aquaculture ponds in Demak for crab and shrimp farming.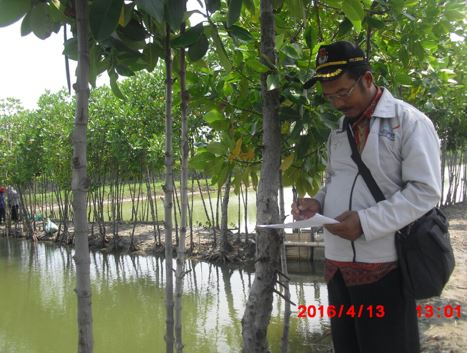 Besides his main function as a village secretary in Surodadi village, he also manages his 3.5 ha pond. During the three day training he kept telling about the difficulty to raise Vannamei shrimp in his ponds. Similar to other shrimp farmers along the coast of Demak, he experiences frequent failure in raising these species. The shrimp fry usually sustain for only 1.5 months after the stocking. When the young shrimp look stressed, and start swimming on the surface water, the farmer will immediately harvest them, even though they are too small to be harvested and can only be sold at a low price.
During the three day ToT in January 2016 Supardi kept on asking for the technical solution to this specific issue, while the training was mainly intended to train facilitation skills rather than aquaculture management techniques. At the end of the training, he expressed his disappointment as he could not get sufficient reply from the trainers regarding his concern.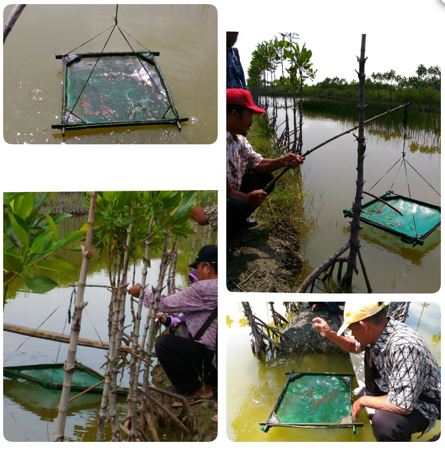 But on Sunday 10th April 2016, when the training had been running for three and a half months, Supardi invited the field facilitators, Irvan and Yoso, to his 1,800 meter square pond for harvest time. The shrimp were harvested 2 months and 3 weeks after stocking time, and were 8 cm in length and 3.3 cm in body circumference. The total yield weighed 100 kg, which he could sell at IDR 35,000/kg. He said that the harvest had never been this good before. In the last decade he had only had poor yields due to mass mortality, which resulted from severely degraded pond soil quality.
He explained that his first successful harvest had resulted from his participation in the Coastal Field School(CFS) Training of Trainers (ToT) held within the Building with Nature (BwN) project. Coastal Field School is a training approach which is adapted from the Integrated Pest Management (IPM) Farmer Field School approach. It aims to build the capacity of small aquaculture farmers to better manage their coastal resources within their own specific agro-ecosystem. CFS encourages the participants to apply the LEISA system in raising fish and shrimp, in which farmers seek to improve productivity of  the farming system, by generating farm inputs locally to reduce cost, and in an ecologically sound way to minimise the adverse impact of the farming practice to the local coastal ecosystem.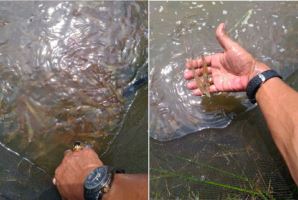 In order to prove the efficacy of LEISA system, he experimented with some rearing techniques learned from CFS in his pond, while substituting the use of compost with artificial feed. Periodically, he shared his experience and the pond progress with other ToT participants. For example, he learned in the training, that for applying the local micro-organism (mol) solution, late afternoon is the best timing to apply it when the sun exposure is not that strong. From such small success, Supardi has just gained his confidence back to raise Vannamei shrimp. He promised that he is committed to implement the complete LEISA system that he learned from CFS in his pond.
Also other ToT participants are enthusiastic. For instance Pak Abdul Ghofur (47 years old), decided to compare the efficacy between new rearing techniques and conventional practices by spliting his pond into 2 demoplots, i.e. treatment pond and conventional (control) pond. Recently, he reported that he made a local microorganism solution and compost, and applied them in his treatment pond. He found  that the klekap (local language for colonies of micro- and macro-organisms which consist of blue algae-Cyanophyceae and diatomae-Bacillariophceae) starts growing in his treatment pond, while there is no klekap growing in the control pond. The grown klekap would be a healthy and free diets for the milk fish reared in his demo plot. Now, two weeks after the fry stocking,he is looking forward to having a good harvest.
Eventhough the implementation of fish farming CFS in Demak is still in its infancy, by looking at the two stories above, I am convinced that there is new hope for the shrimp farmers in Demak to revitalise their ponds through improved pond management. In addition, this approach will enable them to gather, systematise and expand their local knowledge.We are on the right track to achieve the BwN socio-economic objective.
For more information on the Coastal Field Schools: www.blue-forests.org
Contributions from Andi Irvan Abubakar, Weningtyas Kismorodati, Karyoso