Mat Sairi, the head of the Barokah group in Timbulsloko Village, always remembers a message from the Building with Nature Indonesia programme: when we take care of our mangroves, we benefit and they contribute to our livelihoods, and vice versa, when our livelihoods are strong, we can support mangrove rehabilitation. Mat Sairi is living proof of this; his group's economic venture of renting boats for mangrove tourism and his family income from aquaculture are both thriving thanks to a healthier mangrove ecosystem. And increased income from these mangrove-based economic activities has allowed him and his group members to better care for their village's mangroves.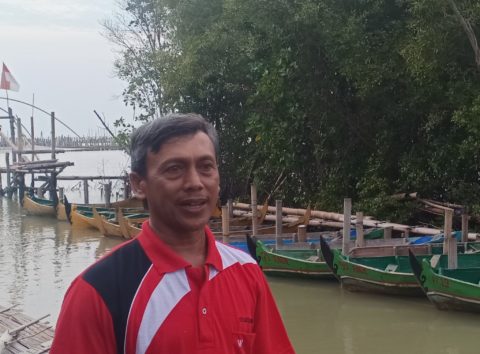 Mat Sairi, however, was not always this optimistic about his livelihoods and the future. In recent decades, Timbulsloko Village has been increasingly impacted by tidal flooding and coastal erosion. At the time the Building with Nature programme started, many aquaculture ponds in the village were no longer productive because they were inundated by tidal flooding. This included Mat Sairi's pond. In addition, village roads were affected by tidal flooding and erosion. Under these conditions, residents were uncertain if the new programme could lead to improvements in the situation.
Mat Sairi confided that it was the patience and persistence of the programme's field facilitators which eventually convinced him and his peers to join the programme. And what these field facilitators explained was true: the capacity of community members increased through the programme's coastal field school: community members enhanced their capacity to analyse and develop solutions to address problems with their ponds.
"An aspect that makes me proud after participating in the Building with Nature activities is that indirectly I can finally send our children to a state university. We have also raised our house so that tidal flooding does not come into our home any longer."
– Mat Sairi
Mat Sairi found learning how to cultivate fish using the Low External Input Sustainable Aquaculture (LEISA) concept particularly useful. He is now optimistic since his pond is producing again. Recently he raised blood clams (Anadara granosa) and last month he made a profit of 10 million rupiah from sales. As a result of the increased income from his aquaculture activities, his children have been able to attend state university. He was also able to raise his house so that it is no longer floods during high tides.
"Through this joint effort, we are able to revolve the existing funds and can provide benefits for all group members; we don't forget to share with the poor in our village."
– Mat Sairi
In addition to supporting individual business ventures with environmentally friendly aquaculture, the Bio-rights program also supported a group venture in the village. The Barokah community group established a boat rental business. The group currently has seven boats that are used for fishing around the village mangrove forest. Healthy mangroves provide habitat for fish populations, which attracts recreational fishers and tourists. The business is managed by the group secretary. He rents out the boats and also earns additional income from preparing and selling live shrimp for anglers. The group has a steady income from renting out boats, with thus far a total profit of seven million rupiah. They re-invest the existing funds to provide benefits for all group members and share the benefits with less fortunate community members. The group's social cohesion is also strong; they meet every month to address issues that arise, and also pray collectively for their deceased loved ones.
Building with Nature
From 2015 to 2021, a landscape-scale implementation of the Building with Nature approach was implemented in Demak district, Indonesia. We restored coastal and riverine mangroves to halt coastal erosion and boosted the local economy by introducing mangrove-friendly aquaculture practices. Besides engineering interventions, we engaged deeply with stakeholders to address the root causes of coastal breakdown and deliver multiple benefits to coastal communities.
Through the Bio-rights mechanism, we gave communities financial and technical support to change aquaculture methods or invest in alternative livelihoods in return for their active engagement in conservation and restoration and engaged them in village development planning.