In Southeast Asia about 25% of plantations are currently on peat and some companies have more than 75% of their plantations on these carbon rich soils. But an increasing number of palm oil and pulp wood producing giants are announcing their commitments to no deforestation and no peatland conversion. What are their real intentions for peatlands?
Carbon emissions, haze and flooding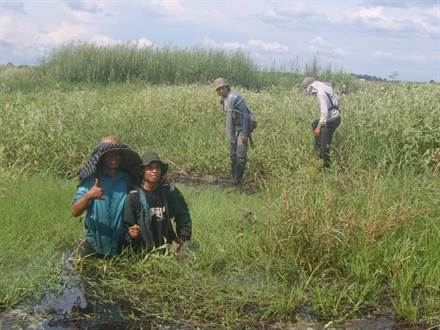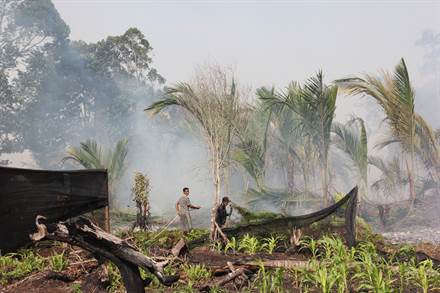 Draining peatlands for palm oil and pulp wood production causes huge amounts of carbon emissions. The dehydrated landscapes triggers thousands of fires annually choking large parts of Southeast Asia – causing an unprecedented public health and economic issue.
In addition to carbon and haze pollution, peat drainage also causes severe soil subsidence. As 70% of the peatlands have their base under mid sea-level, this will inevitably cause flooding in Sumatra and Borneo.
A turning point for peatlands?
In recent years and months, some of the largest palm oil plantation companies, Golden-Agri Resources (GAR) and Wilmar made commitments to use only sustainable palm oil.  This follows demands from companies such as L'Oreal, Unilever, Nestlé, Kellogg's and Mars, who are all active members of the Roundtable of Sustainable Palm Oil (RSPO).  As the RSPO's Principles and Criteria still leave some room for continuation of palm oil production on peat, some frontrunners have formed an alliance called the POIG (Palm Oil Innovation Group) which is committed to more stringent requirements.
After campaigns of Rainforest Action Network and Greenpeace, the biggest pulp and paper producers in Indonesia, APP and APRIL, have also started to perk up their ears and take action, committing to halting deforestation and peatland conversion, as well as agreeing to operate with full consent of local communities.
While their public commitments seem a step forward, the implementation needs to be monitored carefully to ensure that conditions do not turn into loopholes and that the companies do not relapse into their addiction to unsustainable raw materials. And commitments have been made, but have been broken before. We already saw this month that political pressure from the government of the Malaysian state of Sarawak made Wilmar withdraw from commitments.
Wetlands International does encourage the new commitments made by oil palm and pulpwood companies as they do hold the key for sustainable development. But how to ensure that commitments are really turned into practice?
Turning commitments into practice to safeguard peatlands
The Goal: No new drainage-dependent land-use development can be allowed on peat and existing drainage-based plantations on peat should be phased out. In order to achieve this, a staged approach is required:
Transparency about the impacted areas: We need accurate maps that show where the peatlands are, the High Conservation Value (HCV) areas, community lands and existing plantations as well as non-operative plantation concessions. Such maps must form the basis for multi-stakeholder land-use planning and decisions on land use and land management.
Intermediate best management practices: On existing plantations on peat, growers must be retrained to implement intermediate best management practices, which for instance minimize drainage and the application of fertilizers, as a first step towards phasing out drainage-based plantations in the longer term.
Monitoring: implementation of a monitoring system in all concessions on peatlands, monitoring GHG emissions, land subsidence, flooding, occurrences of fire and biodiversity, impacts on adjacent land and forests, as well as the commitments to local communities and labourers. Issuance of annual public reports, verified by independent experts.
Restoration and Rehabilitation: The eventual removal of plantations from the peat must go hand in hand with development of alternative sustainable land-uses, including the restoration and rehabilitation of the peat swamps, into account all environmental and social safeguards as defined under the UNFCCC's REDD+ mechanism.
Alternative Sustainable Land-Use: Such economic uses can include the development of paludiculture: the cultivation of indigenous commercially valuable peat swamp crops and tree species that can grow in wet – undrained – conditions and produce products like edible oil (Illipe nut), latex (Jelutung) or starch (Sago).
Protect all remaining peat swamp forests: Governments should ensure that all remaining peat swamp forests will be protected. They should cooperate to ensure that all designated, but not yet operative plantation concessions on peat will be retracted and swapped for already degraded land on mineral soils.
For practical guidance on how to turn commitments into practice, see 'Decisions for the Future', practical guidance for implementing RSPO Principles and Criteria in relation to peatlands and read our recommendations for a sustainable pulp wood industry in Indonesia.