Back in 2002, Wetlands International together with local partners and communities in Jambi, South Sumatra and Central Kalimantan, brought international attention to the disproportionally high Green House Gas (GHG) emissions from peatlands in Indonesia. We have shown that emissions cease when blocking the drainage canals so peatlands become wet again. We did not think that it would take more than ten years for Indonesian Government to actually replicate what we did back then but are very happy this seems to change.
President Susilo Bambang Yudhoyono (SBY), through the commitment on reducing Indonesia's GHG emissions and the Moratorium on new forest concession licenses, has provided the basic foundations for peatland protection and wise use. However, this doesn't address the continuous emissions, subsidence and fire problems caused by peatland drainage in current oil palm and pulp wood plantations.
New hope for communities
Recently the new President Joko Widodo (Jokowi) visited a peatland area in Sungai Tohor in Riau province to respond on a public petition made by communities expressing concern about the current status of the peatlands in their area.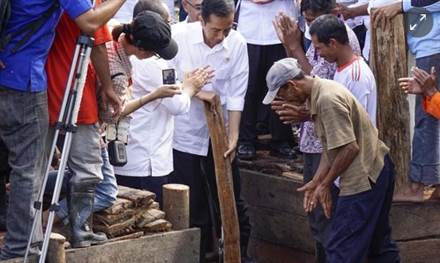 Peatlands surrounding (but not in) Sungai Tohor have been converted to monoculture plantations and drained which has resulted in severe environmental problems, including fires, land subsidence, and flooding. Not to mention, social conflict over land between companies and communities leading to marginalization and poverty. Jokowi came as a new hope for communities. "Peatlands have to be protected and can't be overlooked because of their ecosystem functions", Jokowi said hinting at the huge carbon store, water and fire regulation capacity of peatlands.
Just like we started to do twelve years ago, Jokowi blocked a canal to symbolically put action to his words. Blocking canals will rewet peatlands and allows natural forest to recover or provide alternatives for sustainable peat management using trees or crops native to peatlands which can provide income for local people. This is called paludiculture which can yield a large variety of products like edible oil (Ilipe nut), latex (Jelutung) and starch (Sago). The latter option Jokowi actively promoted by saying that community-managed Sago plantations is best for peatlands as it is more environmental-friendly managed than when given to companies. And indeed, this minimises the risks of fire, reduces GHG emissions, halts the rate of subsidence and prevents flooding.
Extension of Moratorium for plantations in peatlands
The President's statement and move provides a shining light for solving problems with regards to peatland management in Indonesia. The President furthermore promised to extent the current Moratorium and review existing permits for companies planting monoculture plantations in peatlands that damage the environment, and return the area to be managed, used and restored by community using species adapted to peatlands. This, if properly followed up and implemented, will be considered as the breakthrough and big achievement for environmental law enforcement in Indonesia. The attention of the government to protect peatlands is hoped to be spread to other provinces in Indonesia, and that it also provides a regional example for other countries with many drained peatlands where government does not recognize the problems publicly like Malaysia.
We unfortunately also still receive signals that Indonesian palm oil entrepreneurs do not always have environmental and sustainability issues high on their agenda yet. Current Indonesian regulations on 'Protection and Control of Peatland' and the law on the 'Reduction and Prevention of Forest Degradation' are seen as unsupportive towards the country's main commodity and reducing investment in the sector. Let's hope that the President can turn around this mentality.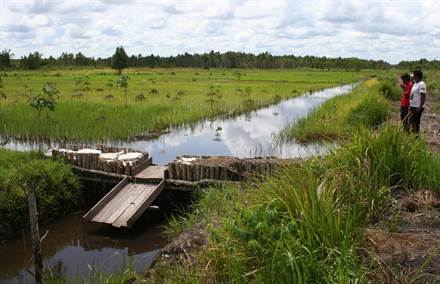 Keep peatlands wet, for people and for the climate
Wetlands International, who is committed to sustain and restore wetlands, their resources and biodiversity, applauds the commitments made by the Indonesian government, and will provide technical support and expertise to assist translating the words into action.
Some concrete suggestions from Wetlands International include:
Current drainage-based plantations on peatlands should adopt interim Best Management Practices including the increase of the water level (to 40 cm according to the recently adopted law PP Gambut No 71/2014), minimize fertilizer application, maximize soil cover and prevent fires.
Furthermore, the plantations should phase-out from peatlands after the current rotation, and opportunities for rewetting and alternative sustainable development for local communities should be created.
There is a need for a major land-use planning and adaptive management effort that requires national government leadership and local government and company support using a participatory approach to secure local community rights.
This will lead to sustainable peat landscapes that provide opportunities for community development, sustainable businesses, carbon store protection and prevents fires and flooding. Keep peatlands wet for land, for people, and for the climate!
See also a recent article in the StraitsTimes: Peatlands and Haze that plague the region.