Interview with José Eliseu Benante from the Institute of Biodiversity and Protected Areas of Guinea-Bissau (IBAP) by Abdoulaye Ndiaye, Technical Officer, Wetlands International West Africa.
A Global Mangrove Watch user story
The mangrove disturbance alert function of the Global Mangrove Watch platform is enabling changes in mangrove cover to be identified more quickly. Satellite remote-sensing data creates near real-time—currently monthly—alerts of mangrove losses in Africa. For now, this system is limited to Africa, but it will be upscaled to a global level in the near future. It enables rapid mobilisation of conservation and restoration efforts, like in Guinea-Bissau in West Africa. Global Mangrove Watch analysts noticed a high number of alerts in early 2021, approximately 20km north of the city of Bissau. Wetlands International workers, together with the Institute of Biodiversity and Protected Areas of Guinea-Bissau (IBAP), visited the site and discovered that a new dam had been built to convert an area of mangroves to rice agriculture.
How was your experience working with the Global Mangrove Watch data in this particular case, where you visited the newly established rice field?
It was very interesting! It was a great experience! The site we visited was located away from the main street, and thus unnoticeable. We could never have found the site without the data from Global Mangrove Watch.
Without the use of Global Mangrove Watch, how do you monitor threats to- and conversion of- mangroves in Guinea Bissau?
Normally, IBAP monitors threats to and changes in mangroves with park guards, in the national parks. On top of that, if we encounter people conducting potentially illegal activities, like cutting wood, we can do enforcement. Even in national parks, mangrove areas are the most challenging ecosystem to monitor due to practical constraints. We don't have the resources to continuously keep track of what happens in all the mangrove areas of Guinea Bissau.
The experience with Global Mangrove Watch was really helpful, because this allows us to act with little means. You gave us the coordinates, and we could assess the situation around the newly developed rice field. It was a great experience. If the system works on a regular basis, we can use it to monitor all areas that we cannot track with our current means.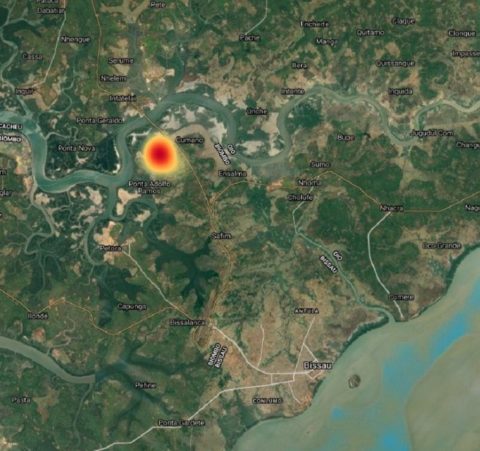 Do you only monitor in national parks or also in the other, non-protected mangrove areas?
IBAP, when it comes to biodiversity, we work both in and outside national parks. However, monitoring we do only in national parks. For mangroves, we can't even do regular monitoring. Here, we do only ad-hoc monitoring.
What to you is the strength of the Global Mangrove Watch data?
Currently, we only use remote sensing data from Landsat and Sentinel to classify the mangroves, for mangrove inventories and ground truth. But we don't know which areas are degraded. We need to know that to conserve mangroves. Therefore, we need the data. We need to know which areas we are losing. Where do we need to focus our attention? The data provided turned out to be valid. The trip showed us that GMW is a credible source!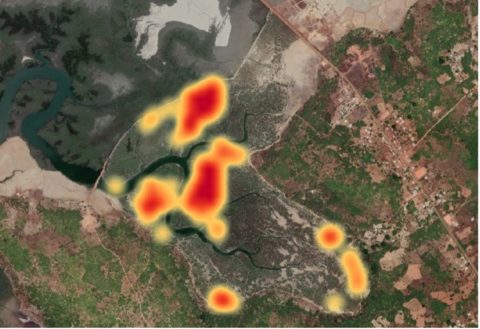 On top of that, in Guinea-Bissau, we don't have good data on hydrology. We need that for the conservation of mangroves. For example, in Cufada National Park, there are 3 zones, and rivers flow through all. We don't know where the rivers are, or where the water flows exactly. This is valuable information for good management.
We are currently in the process of updating the Cacheu (PNTC) mangrove management plan. Global Mangrove Watch data would be very valuable for this process. The same would go for the Cantanhez National Park!
Lastly, we need to be able to monitor the restoration areas. Several organizations are restoring, but tracking the restored areas is a challenge that now requires a lot of manual labor.
This use-case was done in 2021. Has this incurred a change in working with GMW? What would you need in order to use GMW further?
Not yet. We don't have sufficient knowledge or skills at the moment to use the GMW data. We would like to be trained in the use! We need to know how to use it, and where the data is. At least some focal points of our organization need to know how to use it.