Prioritising the role of women in preserving the coastal and mangrove environments creates opportunities for accelerating sustainable development. This is shown through the experience of Nila Diana Wardah, a resident of Purworejo Village, Demak District. Nila, who previously had little understanding of coastal and environmental conservation, is now one of the village leaders who is actively promoting this issue. All of this is thanks to the Bio-rights mechanism used in the Building with Nature Indonesia programme, which provided the same opportunities for women like Nila to learn about coastal environmental issues as it did for men. With a female figure like Nila, the environmental conservation agenda spreads more quickly than it otherwise might have and gained the attention of the village community.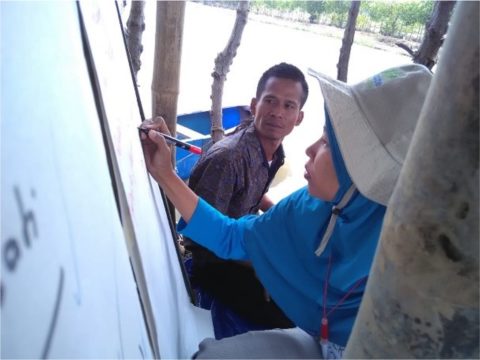 "In addition to sustainable aquaculture practices, I have gained knowledge on environmental conservation, developed my own potential, and created useful relationships with other parties. After joining the Building with Nature Indonesia programme, I pay more attention to conserving the environment around where I live, including leaving no waste."
– Nila Diana Wardah
In Purworejo Village, like other coastal areas of Indonesia, aquaculture is usually the work of men. But that does not mean there are no women who are interested. It is just that the opportunity to learn is often not open to them because of the stereotype that aquaculture is only suitable for men. This was also the case for Nila, who since childhood had a desire to learn about aquaculture. Therefore, when the Kartini Bahari women's group was invited to join the "Bio-rights communities" as part of the Building with Nature Indonesia programme, Nila immediately signed up to become a member.
Nila's initial motivation for joining was to learn about environmentally friendly aquaculture techniques. After intensively participating in the programme, Nila realised that she also had learned many other positive things, including about the importance of mangrove conservation for coastal protection as well as for protection of the community aquaculture ponds. She is
now more aware and more concerned about the environment around her and has also developed her own potential to think critically. Nila also feels more confident to express her views publicly, and to collaborate with other parties.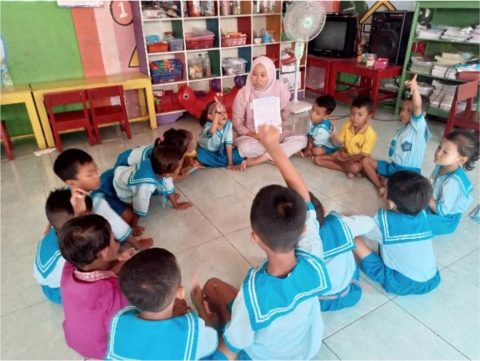 "As a teacher of young children, I want to introduce my students to mangrove conservation and the environment from an early age through games at school and activities to sort waste."
– Nila Diana Wardah
Nila is now a village community empowerment cadre (Kader Pemberdayaan Masyarakat Desa), whose job it is to channel the aspirations of the community to the village government, including related to environmental conservation. Nila was also elected to the Village Consultative Body (Badan Permusyawaratan Desa), along with another member of the Kartini Bahari group. This strengthens her position not only in advocating for environmental conservation, but also in deciding the direction of village development. Nila's ambition does not stop here; as a teacher of young children, she intends to teach her students about environmental and mangrove conservation.
Building with Nature
From 2015 to 2021, a landscape-scale implementation of the Building with Nature approach was implemented in Demak district, Indonesia. We restored coastal and riverine mangroves to halt coastal erosion and boosted the local economy by introducing mangrove-friendly aquaculture practices. Besides engineering interventions, we engaged deeply with stakeholders to address the root causes of coastal breakdown and deliver multiple benefits to coastal communities.
Through the Bio-rights mechanism, we gave communities financial and technical support to change aquaculture methods or invest in alternative livelihoods in return for their active engagement in conservation and restoration and engaged them in village development planning.