What is the best approach to restore and protect a coastline that was hit by a Tsunami? Driven by my own involvement in mangrove restoration after the 2004 Indian Ocean Tsunami and 'Building with Nature' approaches with Wetlands International, I attended the event 'Global approaches to coastal resilience' organized by READY Asia-Pacific  at the WCDRR in Sendai. In this session coastal protection measures after the March 11th 2011 earthquake and tsunami in Japan were discussed.
A panel of local people from the Sendai coastal region gave testimonies of what happened to them that day and how they were able to evacuate. They were all severely affected by the tsunami which came with 10 meter high waves and caused 1 meter subsidence in some places. Some of them lost relatives and all lost their homes and assets.
In response to the tsunami the provincial government has developed plans to erect high (7 – 11m) seawalls along the disaster prone coastal area in Sendai region. Plans are in final stage now and in some places construction has already started; in other places it will start early 2016.
The seawalls are highly controversial for the locals as they are concerned about the impact of this infrastructure on their beaches. "We don't need these large seawalls, we have lived with the sea for all our life and have learned what to do when signs of tsunami, cyclones or storm surges are coming. The walls will destroy our beaches and life", they said.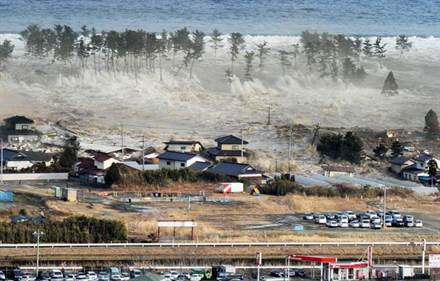 The local people indicated that what they need are good early warning systems, accessible evacuation routes, well equipped evacuation centers and hospitals nearby, on high ground. Their second priority only is the coastal defense, preferably natural vegetation. With the high (7-11m) seawalls they will lose their beach, their fisheries/livelihoods, recreation, and nice view. In places where high seawalls have been constructed (years ago) fisheries have died. Also, people can't see the sea anymore so can't act in case of danger.
Community consultation processes took place and in one case 100% of the people were against the seawall and they managed to resist. However, in many other cases 'the government was too strong' and local people were not fully aware about the consequences.
I was glad to see Japan's First Lady Mrs. Akie Abe coming on stage to give a speech, echoing the concerns expressed by the local people: "It is my great concern. I doubt about this approach. Is it okay for disaster prevention, such huge coastal levees? It can destroy the coastal ecosystem, the environment and as local people not being able to see the sea maybe the risk is even higher. In Japan people have always lived as part of nature. Just for purpose to protect people's lives, is it allowed to destroy nature?"
Mrs. Abe added that "It will use a lot of tax payers money, and will bring more risks, while there is no guarantee that it will buffer tsunamis as the debris can cause large destruction after an earthquake. Investment in good evacuation measures is far more important.  Unfortunately, I could not convince my husband, the government is very strong". Earlier at the World Conference on DRR, Mrs Abe had already highlighted the importance of Nature Based Solutions as alternative to large seawalls.
An international panel consisting of Mike Beck from The Nature Conservancy, Fabrice Renaud from United Nations University and Ritesh Kumar from Wetlands International, were  asked for their views on this issue. They mentioned that risk reduction is about multiple solutions, among which nature-based ones which are by far most cost-effective and 'people friendly'. However, the challenge is that values of these solutions are more hidden in the beginning: "If you put natural infrastructure in, it's the weakest at the start and becomes stronger over time. With physical infrastructure it's the other way around, it weakens over time".
Ritesh Kumar presented a study from the northeast coast of India, where cyclone Kalinga in 1999 caused 10,000 deaths. In areas which were protected by mangrove forests, the impact was much less disastrous. He explained about how Wetlands International involves local communities in their nature-based solutions through an innovative finance mechanism (bio-rights), providing small loans to community groups: "it's important to blend livelihoods with ecosystem restoration".
When the local people asked the international panel  for concrete advice and support on how to address this serious issue the panel indicated that it is vital for them to understand how decisions on physical infrastructure are taken; to get to understand the full 'decision chain'. They gave moral support and said to 'never give up' their resistance to these large seawalls: "Ensure that you get your storylines and options clear and have dialogues with government while reaching out to local and national media and press".
This case clearly illustrates that, though there is increased understanding of the multiple values of nature-based approaches in coastal defense, the reality is that the political pressure for 'grey solutions' is still very high. This is often influenced by the idea that physical infrastructure such as these high seawalls are a visible and impressive symbol of risk reduction and protection.
There is more and more proof that 'hybrid solutions', a combination of for example small scale physical infrastructure such as bamboo fences with mangrove forests are in many cases more effective and cost-efficient than large scale physical infrastructure. In addition, these solutions offer many other benefits for biodiversity, recreation, carbon storage and clean water.
Wetlands International believes that there is a 'green solution' in every setting, sometimes combining 'green' and 'grey' in an optimal mix. These measures need to be implemented alongside other measures of risk reduction, including avoidance of high risk zones, strict building codes, early warning systems and evacuation procedures.