It's hard to imagine that 15 years ago there were lions here in Ethiopia's Somali Regional State, but that's what the Deputy Bureau Head of the Regional Agriculture Bureau told me in his office in Jijiga, a dusty yet booming town that is about 60 kilometres from the border with Somaliland (Somalia), and prone to traffic jams caused by camels.
There are no natural, permanent sources of water in the surrounding plains and hills, which are home to subsistence farmers eking out a living on rain-fed agriculture, and pastoralists with their herds of grazing camels, goats, sheep and cattle – lots and lots of grazing animals. Traditional Somali nomadic huts dot the land – half domes of woven mats over a wooden frame, reinforced with tarps and other plastic debris – that can be picked up and moved to areas that have more water.
People here are directly dependent on nature for their survival, yet the services provided by nature are being lost at an alarming rate, mainly due to the loss of vegetation caused by overgrazing and deforestation. The region has also suffered through years of low rainfall and a punishing drought. Then in April, flash floods caused by rain tore across a landscape that was too parched to absorb water and through Jijiga town killing 28 people.
As a result of longer term trends towards permanent water scarcity and semi-permanent famine, more and more people depend on food aid and safety net programmes, and there are three UN refugee camps in the vicinity sheltering over 30,000 people, mainly from Somalia.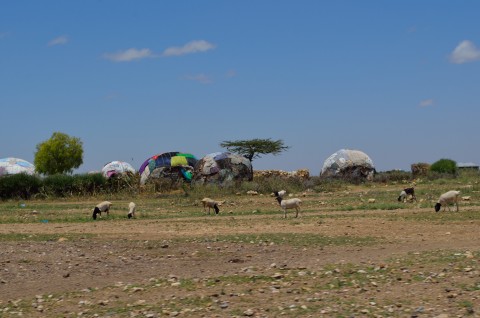 So what is Wetlands International doing here?
In order to address the chronic and persistent nature of these disasters – increasing droughts followed by flash floods – we are taking an approach that considers healthy nature as the most important factor for human well-being and sustainable economic development. By restoring and conserving natural (seasonal) and constructed wetlands, we are seeking to address the underlying problems that are degrading the landscape and causing the disasters. This starting point represents a new way of thinking in the region about how to reverse the downward spiral of land degradation and poverty, and build resilience in the face of disasters.
Predictably, many previous aid projects have been undertaken by various donors, and many of these have focused on food aid and water development. But what I saw on the ground was a do-anything-anywhere approach. A large number of water access points were created, but many of these were not maintained and no longer function. Without an understanding of how water acts naturally within a landscape, these sorts of interventions can actually aggravate problems such as flooding and soil erosion, leading to unsustainable results that deepen the underlying problems instead of solving them.
What we do

Our first step was to develop  a knowledge base – our soon to be published Atlas of the Upper Fafan Catchment – in order to map and fully understand the ecosystems and how they provide and retain (or lose) water. This helped us figure out how to use the land itself to halt and reverse environmental degradation. To do so, we are piloting efforts to restore and use wetlands to slow down water flows, help recharge groundwater, increase soil moisture, prevent erosion and improve the fertility of the soils.
The loss of vegetation is one of the most serious environmental challenges across the Jijiga region. Driving across it, I saw a landscape that was distinctly lacking in trees, camels loaded with wood and people dragging felled trees. To counter this trend, we are working to establish a culture of tree planting. Our four nurseries are producing two million seedlings that will help provide food security and soil and water conservation benefits. Revegetation will gradually start to restore the health of the land and chip away at the ongoing cycle of disaster.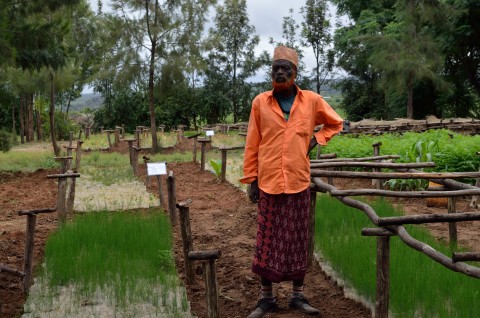 It is hard work to bring people together and convincing and mobilising communities. But through our outreach with clan and religious leaders, local communities are becoming empowered to help build a more sustainable future and embracing the value of trees. And school children are establishing environmental clubs, nurturing seedlings and taking the conservation message home with them through an innovative education curriculum that we developed for an expanding number of schools.
In order to sustain these activities in the long run, we are working with our partners Netherlands Red Cross, Ethiopia Red Cross, and Red Cross Climate Centre to embed this ecosystem restoration and management approach to disaster risk reduction within different levels of society. At the government level, we are working to implement recommendations from the Atlas, thereby ensuring that agricultural and water development priorities contribute to building resilience and sustainable results. Another lasting cornerstone to our approach is the establishment of watershed catchment management planning bodies that will continue to manage water – and anticipate and respond to floods and droughts – in a more sustainable way.
This is Wetlands International's first engagement in Ethiopia's drylands, but it has much in common with the rest of Africa's water-scarce Sahel where we've had our feet on the ground for many years: the poorest and most vulnerable people suffer most when the natural environment is degraded. Our efforts here will take time, and we need more partners to expand on our small-scale successes, but amongst the people we have empowered there is already a strong commitment and palpable sense of hope for better days ahead in a region that desperately needs it.