For the first time ever, World Wetlands International 2022 is observed as a UN international day, reflecting a growing awareness of the crucial role wetlands play for people, climate and biodiversity.
This year's theme, Wetlands Action for People and Nature is a call to all stakeholders to value wetlands, the services and the nature-based solutions they provide; and to invest financial, human and political capital in managing them wisely and restoring them for biodiversity, climate and sustainable development outcomes.
Why it matters
More than 1 billion people worldwide directly depend on wetlands for their livelihoods, food and fresh water.
Wetlands protect communities against the impact of climate change.
Wetlands are home to 40% of the world's biodiversity.
Wetlands are our most effective land-based ecosystem for capturing carbon.
The global value of wetland ecosystem services for human health, wellbeing and security is estimated to be $47 trillion a year.
The big picture
Healthy wetlands are vital to meeting global climate, sustainable development and biodiversity goals. Safeguarding and restoring wetlands is critical to achieving the goals of the Paris Agreement, emerging Post-2020 Biodiversity Framework and the Sustainable Development Goals.
Between the lines
Ambitious climate and biodiversity action needs real global wetland targets. Global wetland targets will help drive the investment needed to increase the pace and scale of wetland recovery for climate and biodiversity action. Without global wetland targets included in these conventions, wetlands will be left out of financing for climate and biodiversity.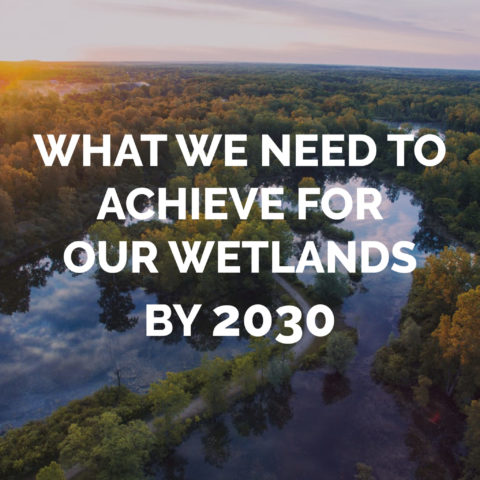 By the numbers
We must turn the tide. With other international organizations, Wetlands International has drawn up proposed targets that we believe should be part of agreements under the Biodiversity Convention, of future "nature-based solutions" to climate change, and of the UN's current decade for ecosystem restoration. Our targets include:
All the world's remaining undrained peatlands to be kept intact, and by 2030 at least 100,000 square kilometres rewetted by blocking drains to lock in their carbon — with five times more restored by 2050.
With half the world's coastal mangroves lost, mostly to aquaculture and coastal infrastructure, restoration of 20 percent of this "blue carbon" by 2030.
All the world's remaining free-flowing rivers, such as the Irrawaddy and Salween in Southeast Asia, to be protected from dams, levees, sand mining and other impediments.
The world's tidal flats to be increased by at least 10 percent by 2030, by removing sea walls and restoring supplies of silt from dammed rivers. This would represent just half of what has been lost since 1990.
Action to prioritize stopover sites along the great international flyways of migrating water birds, to secure at least half of the 7,000 critically important sites identified by ornithologists by 2030.
The bottom line
Lakes and rivers, underground aquifers, swamps and marshes, wet grasslands, peatlands, oases, estuaries, deltas and tidal flats, mangroves and other coastal areas, coral reefs, and all human-made sites such as fishponds, rice paddies, reservoirs and saltpans. They are all wetlands and superheroes of nature. And yet they continue to be overlooked. This needs to change. Join us in securing the future of wetlands. Follow us on social media and join the conversation online.