For a three weeks in March 2018 we surveyed waterbirds almost continuously in the coastal wetlands of Barr Al Hikman, Oman. By day we counted birds, and at night we caught, ringed, and released them. It was the first time a spring migration survey was done in this waterbird paradise. We found that about 310,000 individuals of about 80 species of waterbird rest and feed there at this time of year.
The Barr Al Hikman peninsula, about 900 square kilometres of wilderness, is partly covered by the Al Wusta Nature Reserve. We are partnering with Oman's Ministry of the Environment and Climate Affairs to have it recognised as a Ramsar site, a wetland of global importance. This survey helps towards that.
Barr Al Hikman has been surveyed several times before, the last two years by Wetlands International, with a focus on 'winter-surveys'. In 2017 we counted more than 500,000 birds wintering there.
Never before have we fully assessed the value of the site for waterbirds during spring migration. Spring means that some birds that have spent their winter at Barr Al Hikman, have stocked-up and are ready to move on to their breeding grounds; while at the same time birds from other areas further south are stopping to rest and refuel on their route north. This 'turnover' of birds means that many more than the 310,000 we counted rely on the site during their migration. We did ringing, colourmarking and sampling work in March to get a feel for how high that turnover is.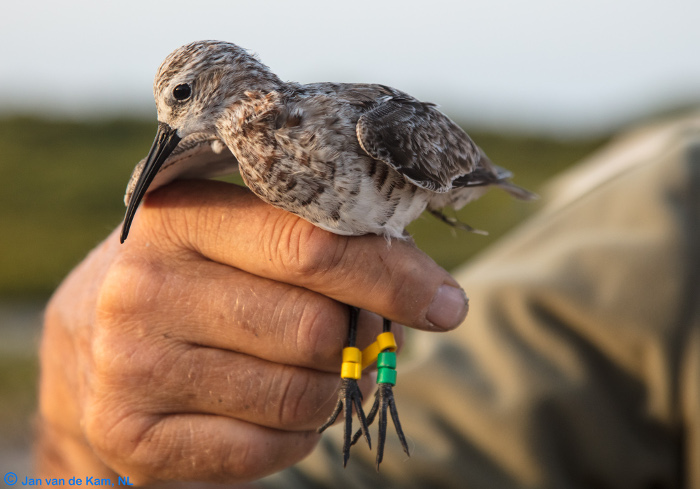 Knowing that Barr Al Hikman is necessary for hundreds of thousands of birds is already a strong case for safeguarding the coastal habitats. It is a jewel of which Oman can be proud. However there is more work to be done, not least a full analysis of the counts made in March. So far we have first impressions, which indicate that there are fewer birds in March than in January surveys. It looks like more birds have left than have been replenished from the south.
The picture differs a lot between species: the lesser sand plover numbers are 80% lower in March than in January; dunlin are 50% lower. These are amongst the most common species at Barr Al Hikman so they have a large influence on the overall figure. The crab plover is signature species for Barr Al Hikman, and numbers in March were 90% less than in January. There were also fewer large gulls and cormorants. Curlew sandpipers on the other hand stood out as having increased four-fold since January.
We presented these initial findings to more than 100 people from ministries, companies and universities at an event in Muscat. The value of the site then reported by the main newspapers, radio, and television in Oman.
Our programme Head Business and Ecosystems, Ward Hagemeijer, organised and took part in the survey and in between the day and night bird counting and ringing found time to document the expedition visually, in the form of this Facebook photo album.
Header photo by Jan van de Kam.