The Global Mangrove Alliance is delighted to be the recipient of one of two $2 million 2022 Food Planet Prizes. This Prize will further work towards our Alliance goal to Halt Loss, Restore Half, and Double Protection of mangroves globally by 2030 and help support on the groundwork linked to food security through our National Chapters initiative.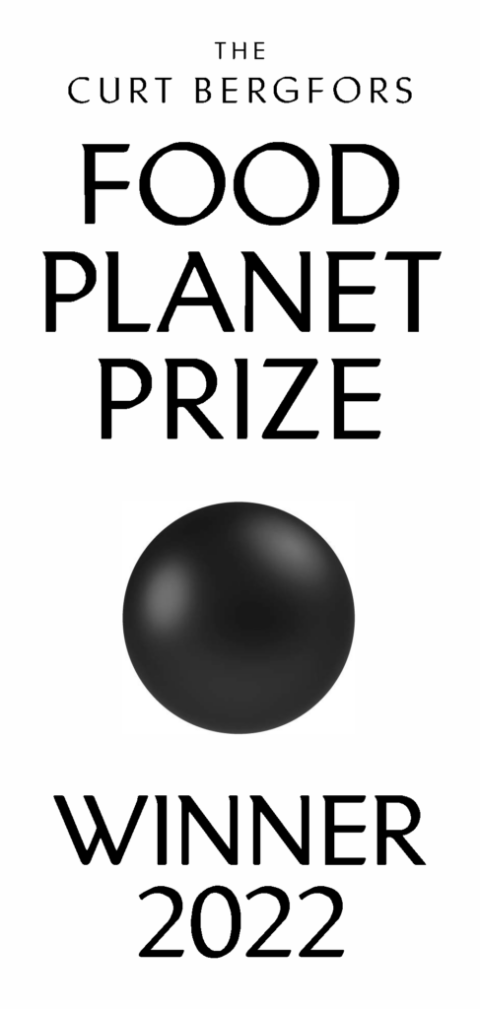 The Food Planet Prize awards initiatives that solve the dilemma of feeding a growing world population while saving a planet in peril. Each year, two winners receive $2 million each to rapidly scale up their initiatives.
The Food Planet Prize enlisted ten jurors on four continents to ensure the diversity of views needed to evaluate a broad range of initiatives. Johan Rockström, Director of the Potsdam Institute for Climate Impact Research, and Magnus Nilsson, Director-General of the Food Planet Prize co-chaired the Jury.

"Conserving and restoring mangroves can not only improve food security for the 4.1 million fishers who depend on healthy mangroves for a critical source of jobs and protein, but also reduce poverty and boost economic resilience by increasing access to sustainable livelihoods. And when securely managed with equitable access, mangrove ecosystems provide coastal protection, support biodiversity, and are highly effective carbon sinks that can benefit people and our planet well into the future. We are thrilled that this Prize will support the livelihoods and food sources of coastal communities as the GMA works towards our 2030 goal."
– Karen Douthwaite, Director, Oceans at World Wildlife Fund, and Global Mangrove Alliance Steering Committee Member

Representatives of some of the Global Mangrove Alliance's steering committee organizations, including Conservation International, WWF, and IUCN, receive the Food Planet Prize from the Swedish Ambassador to the United States, Karin Oloffsdotter. © Joy Asico / Food Planet Prize.
More information on this prize along with a press kit for media is available from the Food Planet Prize here.
MANGROVES AND FOOD SECURITY
Collecting resources from mangrove ecosystems has been done for thousands of years. Communities depend on the trees and surrounding marine seascape for fish, shrimp, shellfish, honey, cooking fuel and more, and can continue to do so with sustainable practices in place. However, as industrialization and large-scale food production has grown, large swaths of mangrove forests have been cut down, to the detriment of people and biodiversity. The latest mangrove loss data in the Global Mangrove Watch estimates a net loss of 5,245km2 since 1996.
Mangrove deforestation has resulted in a steep decline in mangrove crabs and fish, hurting communities' ability to sustain themselves and their families. With support from our GMA member organizations, communities around the world are taking up mangrove conservation leadership, replanting mangroves, and ensuring that resource harvesting is sustainable. As a result, crabs and fish are returning and mangrove beekeeping and other alternative livelihood programs have arisen in some communities, furthering the benefits community members can receive from the coastal ecosystems. Read more about this work in the Global Mangrove Alliance's latest report, The State of the Worlds Mangrove's 2022.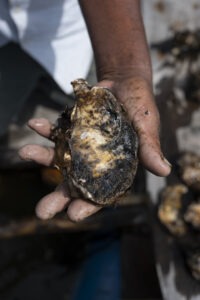 A farmer with Ostrichamichin farming cooperative holds an oyster farmed from floating rafts that are anchored in a waterway lined by mangroves in Marismas Nacionales.
© Felipe Jacome / Food Planet Prize.
In Mexico's Marismas Nacionales Biosphere Reserve, Global Mangrove Alliance members, World Wildlife Fund, and The Nature Conservancy, work with local partners on mangrove conservation and sustainable livelihoods and have recently launched the
Mexico National Chapter
 of the Global Mangrove Alliance. As part of the application process, the Food Planet Prize 
produced a story
 on the work in the Biosphere Reserve and on the Global Mangrove Alliance as a whole.