The 6th session of Global Platform for Disaster Risk Reduction (GPDRR) is a crucial event in terms of global disaster risk reduction (DRR) planning, policy and investment. The event  provides critical contribution to the 2019 High-Level Political Forum on Sustainable Development as well as to the UN Climate Action Summit, determining the priorities in terms of integrated risk management in coming years. We are happy that the science and successful stories of ecosystem and nature based solutions we brought to the event, have contributed to the inclusion and emphasis on these approaches in the Chair's concluding summary of the event.
90% of disasters are water related. Because of this, Wetlands International has been working on management and restoration of wetland ecosystems as 'blue-green infrastructure' to buffer against disasters, build resilience and offer climate solutions. These solutions also come with multiple co-benefits as they store carbon, are climate adaptive, provide food and fresh water, contribute to healthy urban spaces, protect biodiversity, and have important cultural values.
As a member  of the Partners for Resilience and PEDRR network, we brought the science of ecosystems' protective function, key lessons of our field-based programmes,  from around the world to GPDRR and highlighted the urgency to implement and upscale successful examples such as Building with Nature, and integrate ecosystems in DRR strategies and plans at national level. We are happy to see that these points are taken into account in the Chair's summary of GPDRR. The summary, which is a compilation of key points from the event, calls for integrating  ecosystems and nature based solutions (NBS) in the national strategies and plans for disaster risk reduction and resilience building. In the context of the changing climate and looming threat of ecosystem breakdown that the IPBES Global Assessment drew attention to, further promotion of ecosystem-based approaches and NBS in this outcome document is another step to the right direction.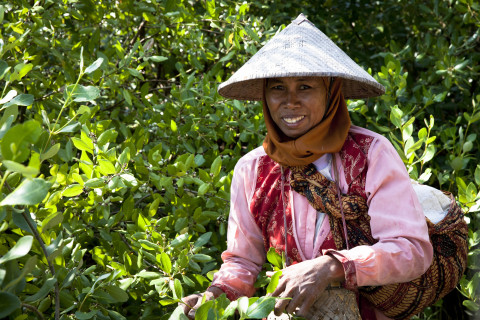 The Global platform also recognises the relation between climate change, environment degradation and social instability- a relation that has been overlooked for a long time. This is one of the key points of our work. In the Water Shocks report, we explained the relationship between wetlands and availability/access to freshwater resources and livelihoods, human security, and presented cogent cases from Mali illustrating the relationship between climate change, wetlands loss and fragility.
We think it is important to note that climate change and ecosystem breakdown are approached jointly. As Dr. Raditya Jati of the Indonesian National Disaster Management Agency (BNPB) commented on our Building with Nature approaches: "If we protect nature, nature will protect us". We have many examples of nature-based solutions in our works to replicate and upscale. We hope leaders of the nations will realise the urgency of taking healthy ecosystem into their planning and investments to save both people and the planet.
For an overview of all Wetlands International contributions (incl. presentations) to the Global Platform, see our GP2019 webpage.
————————————————————-
Contacts:
Dushyant Mohil
Project Manager
Wetlands International South Asia
[email protected]
Sander Carpay
Urban Resilience Coordinator
Wetlands International
[email protected]