With increasing risks of flooding and erosion, the impacts of climate change on coastal systems and communities are becoming ever more apparent. The dredging sector has a large role to play in safeguarding these areas, introducing adaptive measures and new ways to protect coastlines.   
Dredging contractor and marine services provider Royal Boskalis Westminster N.V. (Boskalis) and Wetlands International are working together to enhance coastal wetland habitat that provide some of the greatest carbon stores – often referred to as 'blue carbon'. The focus is on developing the knowledge and expertise to help realise the measures required, while meeting climate targets and addressing related issues such as biodiversity conservation. 
About the collaboration
Boskalis and Wetlands International have worked together for several years as active members of Ecoshape, a pioneering consortium developing 'building with nature' principles to support nature-based flood defense, coastal restoration, resilient deltas and sustainable ports. Such principles prioritize the use of natural processes and materials such as sediment flow and mangrove restoration to meet society's need for infrastructure.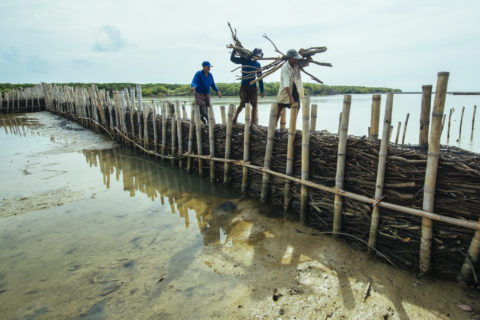 Noteworthy projects undertaken together include the 'Building with Nature Indonesia' program, where mangrove rehabilitation and nature-based coastal protection provide a foundation for local economy and community development.
Boskalis and Wetlands International are committed to strengthening the knowledge base and sharing the learnings from the collaboration with the sector as a whole.
Coastal ecosystems such as mangrove forests, seagrass meadows, and tidal salt marshes are important habitat for all kinds of species. These ecosystems contribute a major part of people's livelihoods and maintain water quality. Their conservation and restoration are gaining interest, not only in terms of biodiversity value, but as climate buffers, providing a cost-effective way to both take carbon out of the atmosphere while ensuring communities and nature can adapt to the impacts of climate change.
Building with Nature Indonesia is a programme led by Wetlands International in close collaboration with Ecoshape, the Indonesian Ministry of Marine Affairs and Fisheries (MMAF), and the Indonesian Ministry of Public Works and Housing (PU). The programme is supported by the Dutch Sustainable Water Fund and The Federal Ministry for the Environment, Nature Conservation, and Nuclear Safety (BMU) as part of the International Climate Initiative (IKI).
Read the press release about this collaboration here.