We at Wetlands International are paying tribute to our beloved former colleague Susanne Boom van der Sande, who passed away on Wednesday 19th May.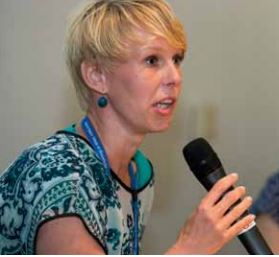 Susanne worked with Wetlands International for more than 10 years joining us in 2005, in the first instance as a project assistant. She joined us looking for a new professional role that would build out of her past experience, having worked for the International Water and Sanitation Centre as a Junior Project Assistant in the Netherlands and Africa, focusing on water, sanitation and hygiene.
Starting on a part-time basis, Susanne steadily developed a key role in the organization. Her natural organizational skills coupled with attention to detail meant she quickly found herself supporting several projects. Most notably she became an invaluable member of the team rolling out our post-2004 tsunami recovery program GreenCoast. This four country programme delivered sustainable recovery for thousands of people in South-East Asia and paved the way for later  ecosystem-restoration based disaster risk reduction.
Very soon it became clear that Susanne's background in WASH would be a great asset to the organization which was exploring the basis for a new programme linking WASH and conservation. Her understanding and networks in the WASH sector coupled with her confidence and enthusiasm helped to bring the programme alive. Networks and institutional relationships were quickly built, a joint publication was written and within short time Wetlands International were part of a partnership of 12 northern and more than 100 southern WASH non-governmental organisations. Susanne took on the Coordination role for this initiative with determination and zeal. With our network and partners she forged interventions in Kenya, Uganda and Bangladesh to provide proof of concept and anchor the new thinking in our partnership. Her work and energy has continued to inspire this theme in our organization with another major 5 year programme just completed alongside the original initiative which has continued to this day.
More than this though, Susanne was the embodiment of warmth and intelligence coupled with drive to make the world a better place. Life had taught her to be open and share her thoughts and concerns and this she brought into her personal and professional daily life, often finding a way forward where others were struggling. Together we stand united in our mourning this untimely loss. At this difficult time, our thoughts and prayers go out to all Susanne's huge network of friends and contacts, and above all to her close family, Corné, Lieke and Tessa.