Wetlands International is proud to announce that Jane Madgwick, CEO of Wetlands International from March 2004 to April 2023, has been appointed as life-long Counsellor of Honour to Wetlands International, in recognition of her outstanding contribution to the organisation.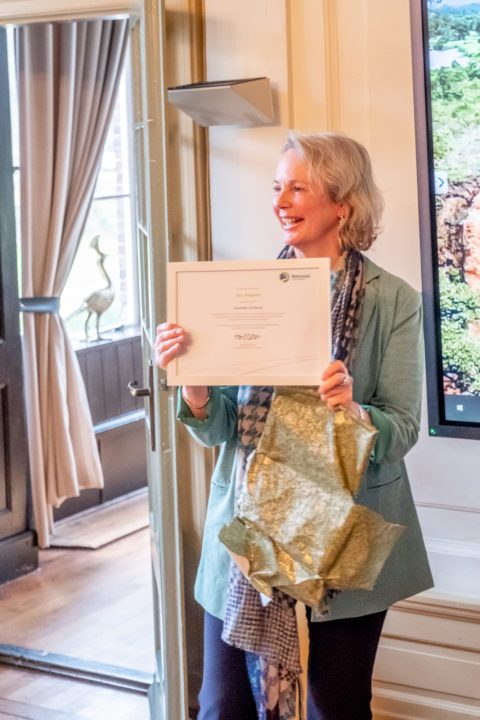 As Counsellor of Honour, Jane will retain an interest in the affairs of Wetlands International and may be called upon for advice from time to time. 
"On behalf of the Supervisory Council, it is my pleasure to grant Jane Madgwick the title of Counsellor of Honour for leading Wetlands International with vision, courage and passion for nearly two decades, raising awareness on the importance of wetlands for biodiversity conservation, human livelihoods and sustainable development." Adrie Papma, member of the Supervisory Council. 
An ecologist with 30 years of experience of working internationally on the science, policy and practice of wetlands and water management, Jane joined Wetlands International in March 2004. Under her leadership, the organisation has grown to become the leading global voice for wetlands with a network of 20 offices operating in over 100 countries worldwide. 
During her tenure, Jane led the team to achieve significant influence and impact, including: 
Developing and leading a partnership programme in response to the 2004 Asian tsunami in five countries, that enabled ecosystem restoration to become recognized as a necessity as part of recovery and reconstruction for affected communities; 

 
Forging strategic partnerships for wetland action with key sectors, including water engineering companies, humanitarian, development and finance organisations; 

 

Bringing global attention to the causal link between drainage of peatlands and massive greenhouse gas emissions, stimulating further research, policy change and incentives for peatland protection and restoration. 




 
More recently, Jane has also overseen the development of a new strategic intent 2020 – 2030, which sets out the organisation's direction for the next decade with the ambition of scaling up action to safeguard and restore wetlands by 2030, collaborating with multiple partners and mobilising a wide range of actors to transform whole landscapes and sectors. This has attracted interest and support from multiple donors, with commitments to support the organisation in its catalytic work.  
 After 19 years as CEO of Wetlands International, Jane Madgwick will now take up a new role as the first Executive Director of the Global Commons Alliance from 1 May, fostering collaboration and connecting cutting-edge science and strategic communications to bring about a mindset shift, enable action and drive systems change across critical sectors and landscapes to ensure that societies and the global economy thrive, sustained by healthy global commons, on a stable planet.