New guide launched at climate talks in Lima for financing wetland carbon initiatives
Coastal wetland conservation

Integrated delta management

Natural infrastructure solutions

Peatland conservation and restoration
Lima, Peru – IUCN, Conservation International and Wetlands International presented a new guidebook to financing wetland carbon programs and projects during the climate conference in Lima last weekend. It will help project and program developers through the maze of financing mechanisms and options out there.
This new publication "Fresh and Salty – An introductory guide to financing wetland carbon programs and projects" targets governments, private sector and NGOs. Throughout its 8 chapters, the reader is brought up to speed on which type of wetland conservation or restoration is funded through which mechanisms or grant-making programmes, and how to leverage funding from co-benefits, e.g. for biodiversity conservation.
There are a large number of countries with carbon-rich wetlands such as non-forested and forested peatlands and mangroves. Better carbon management of freshwater wetlands, such as peatlands, and saltwater wetlands (mangroves, tidal salt marshes and seagrass meadows), are critical for reducing greenhouse gases.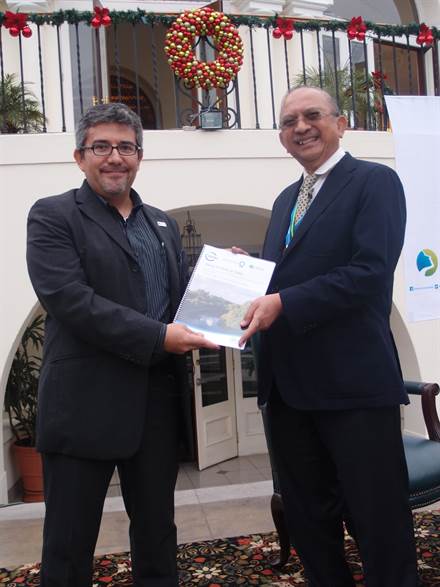 Wetlands conservation and restoration efforts also generate benefits and services to local communities and biodiversity, as well as to the fisheries, forestry and tourism sectors. Better wetland management also provides, amongst others, flood attenuation and wastewater treatment services, erosion control, and buffering against rising sea level and storm damage.
The publication was launched during the event organized by Wetlands International at the Development & Climate Days, held on 6 and 7 December during the UNFCCC Conference in Lima, Peru. The first copy was handed over to Mr Heru Prasetyo, Head of the REDD+ Agency of the Republic of Indonesia. Mr Prasetyo also shared the progress on including mangroves into its national REDD+ strategy, which already covers other carbon-rich wetlands, being tropical peatlands.
During a panel session, two top experts shared their experiences and knowledge with the present public. Dr Steve Crooks contributed his insights gathered from decades of work by his team on mangrove restoration. Dr Moritz von Unger enlightened the listeners on the latest developments in the UNFCCC negotiations and analysed the different mechanisms in relation to wetlands.