By 2030, we aim to enable community-based conservation and restoration of 10 million hectares of peatlands.
To enable communities living in and around peatlands to increase their resilience in the face of rising hazards (like fires and floods), it is necessary to develop sustainable local economies which are in harmony with and contribute to peatland conservation and restoration. We will do this by building their capacity to establish and diversify livelihood activities which are compatible with wet peatland environments. By connecting local community groups, creating an enabling policy environment and applying innovative finance mechanisms, we will incentivise and sustain community-based peatland management across whole landscapes.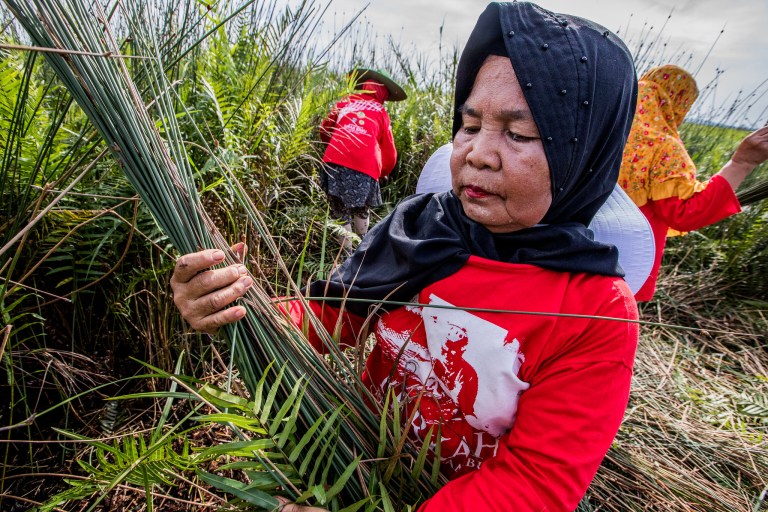 We are working to:
Communicate the essential role that communities can play in delivering sustainable peatland management alongside 'just' livelihoods
Build capacity of local and indigenous peatland communities to increase their technical capacity and access to knowledge and resources to manage their peatland landscapes to reduce health and fire risks, while enhancing livelihoods and natural values
Work with national and local governments to embed and protect community tenure and enable a gender-inclusive tenure system
Enable coordination and complementarity across government, company and community-led initiatives across whole peatland landscapes, through multi-stakeholder processes
Promote and embed finance mechanisms that enable upscaling of economically viable, peat-smart land-use by local communities, including wet peat agriculture as a key component of landscape regeneration
This should enable communities to restore natural peatlands, through more biodiverse landscapes with increased livelihood opportunities, reduced disaster risk and improved adaptation to climate change.