The United Nations Climate Change Secretariat has celebrated Wetlands International's peatland restoration in Russia as one of nineteen diverse 'Lighthouse Activities' for tackling climate change.
They set up the awards under the banner of Momentum for Change, to promote the initiatives people are creating below the UN-level. In this case, the Russian and German governments worked together to facilitate large-scale plans made and implemented by Wetlands International. The result has not just held back huge amounts of carbon, but also saved lives and benefitted wildlife.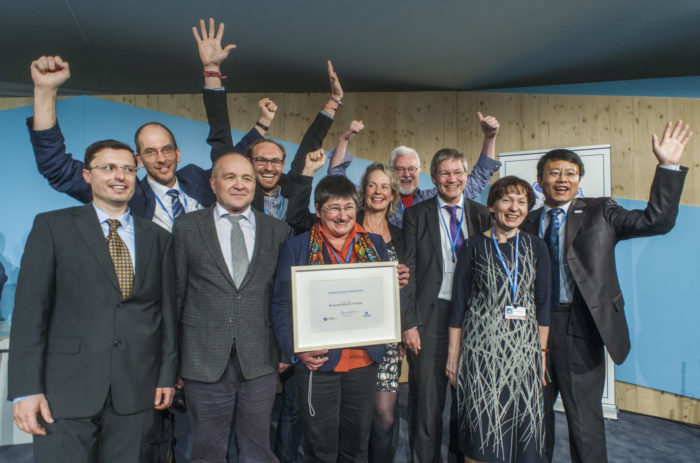 The origins of the award can be traced back to 2006, on another continent. Our research showed that drying out peatlands, and the resulting fires, had made Indonesia a major emitter of greenhouse gases. Those fires also visibly brought public health impacts, a thick choking haze. Then in 2010, this apparently tropical problem reoccurred not around Jakarta, but Moscow. Peatlands were burning, the smoke reaching the city and killing people. It was a similar problem: in both places peatlands had been drained, leaving the soil bone dry, a fuel, ready to burn.
With our experience in Indonesia and beyond, we were well placed to help. Funded by Germany's International Climate Initiative (IKI), we have rewetted and ecologically restored peatlands outside Moscow. This is the project the UNFCCC has recognised with the Momentum for Change award, and the numbers make it obvious why:
Over 35,000 hectares of drained peatlands have been restored using ecological methods with another 10,000 hectares underway, covering an area about half the size of Berlin;
Almost the same area again has been restored specifically to prevent fires;
The total amount of emission reductions is about 175,000 to 220,000 tons of CO2 equivalent a year.
This award recognises the benefits of our techniques, but also that this is a step, not a destination. We have rewetted and restored wetlands in such diverse climates as Russia, Indonesia, China, and Mongolia. With support such as in this project, the momentum for change can continue and grow to benefit people and nature alike.
Our partners in Restoring Peatlands in Russia are the Institute of Forest Science of the Russian Academy of Sciences, the Michael Succow Foundation and Greifswald University. The project is implemented in co-operation with the Ministry of Nature Resources and Environment of the Russian Federation, governments of Moscow, Nizhny Novgorod, Tver and Vladimir provinces. It is mainly funded by the German Ministry of Environment, Nature Conservation, Building and Nuclear Safety as part of the International Climate Initiative facilitated by the KfW development bank.
More Information
https://youtu.be/QZ5qu_nPHYM