Building with Nature: Creating, Implementing and Upscaling Nature-Based Solutions
Building with Nature: Creating, Implementing and Upscaling Nature-Based Solutions
Aquaculture, fisheries and coastal agriculture

Coastal resilience

Coastal wetland conservation

Integrated delta management
This book makes the urgent and compelling case for scaling up the Building with Nature approach to adapt to and mitigate climate change. It contains a large number of Building with Nature solutions and results in six different landscape types and dialogues with experts and stakeholders.
Half of the world's population lives and works in deltas. This is expected to be 70 percent by 2050. These areas are under great pressure due to climate change and sea-level rise. Coastal erosion, loss of biodiversity and more frequent flooding are an increasing threat.
Building with Nature is a proven, innovative approach to realize water-related Nature-based Solutions for societal challenges. This approach utilizes the forces of nature and strengthens the opportunities for nature development, creating added value for the environment, economy and society.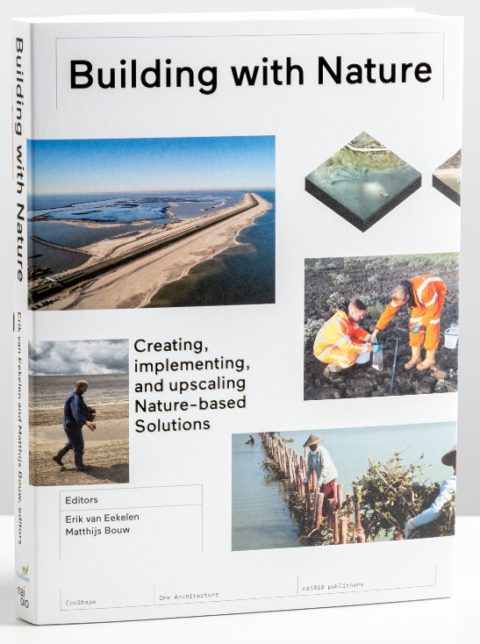 The book was developed by all partners of the EcoShape network, a unique collaboration of scientists, engineers, builders, designers, NGOs, and governments that in the last decade jointly designed, realized, monitored, and studied Building with Nature projects. These projects show that it is possible to implement Nature-based Solutions on a larger scale. In addition to sustainable and safe coastal defences, these solutions also provide ecologically rich and resilient landscapes. These characteristics make Building with Nature the ideal method for climate adaptation and mitigation.
Order the book
Watch the recent launch of the book:
Wetlands International has been a member of EcoShape since 2012 and has managed and implemented the Building with Nature project in Indonesia in the past 5 years in collaboration with Indonesian and international partners. We are currently working to scale up the Building with Nature approach in Asia through the 'Building with Nature Asia' initiative. Read more.
ISBN 978-94-6208-582-4 | December 2020 | Matthijs Bouw & Erik van Eekelen | With contributions from: Henk Nieboer, Fokko van der Goot, Luca Sittoni, Carrie de Wilde, Martin Baptist, Mindert de Vries, Sonja Ouwerkerk, Fokke de Jong, Arno Kangeri, Simeon Moons, Sien Kok, Jurre de Vries, Justine Shapiro-Kline and Henk Ovink | design: Vanessa van Dam & Adriaan Mellegers | English | paperback | 17 x 24 cm | 256 pag. | Illustrations by OneArchitecture & Urbanism | EcoShape | NAi Booksellers