Submission calling for additional guidance for countries participating in REDD+ (Reducing emissions from deforestation and forest degradation) to meet social, environmental and governance safeguards.
Addressing and respecting the Cancun social, environmental and governance safeguards is an undisputed REDD+ requirement. Countries must demonstrate they have complied with this requirement by submitting a summary of information from their Safeguards Information System (SIS) through National Communications and the Information Hub. However, exactly what should be included as a part of this REDD+reporting requirement remains unclear.
The REDD+ Safeguards Working Group (RSWG) submits that further guidance is needed to address the current gaps and provide greater clarity. This further guidance would particularly benefit least developed countries (LDCs) by helping them to access results based payments.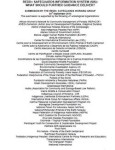 REDD+ SAFEGUARDS INFORMATION SYSTEM (SIS): WHAT SHOULD FURTHER GUIDANCE DELIVER?
download