Welcome to The Source
The Source is our new digital magazine showcasing the achievements of Wetlands International and its partners in 2018, and aims to bring to life our annual review and accounts.
This magazine-style review of our work aims to inspire you and provide insight into our most exciting and challenging projects and programmes from around the world. In the main magazine you will find news stories and features about work from India to the Andes, as well as profiles of our people. In the Annex (downloadable) you will find the detailed description of our organisation's structure and function as well as the detailed financial accounts.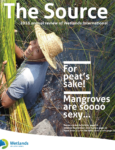 The Source: Annual review and Accounts 2018.pdf
download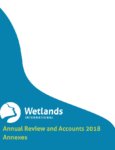 Annual Review and Accounts 2018: Annexes to the Source
download