Toward sustainable fisheries in the Parana-Paraguay Corridor: Development of the Paraná Delta Artisanal Fisheries Network
Wetland agriculture and fisheries
At the beginning of 2018, we have started the Corredor Azul Programme to safeguard the health and connectivity of the Parana- Paraguay wetlands system. The Corredor Azul area extends over 3,400 km from its source in the Brazilian Pantanal to its end point in Parana-Delta in Argentina. It is one of the world's last remaining examples of a large, free-flowing river system, the heart of which are the Paraná River and the Paraguay river. Cities and rural populations are heavily dependent on Corredor Azul's dynamic natural system and its resources. A free-flowing river helps regulate floodwater, stores carbon, provides clean drinking water and supports fisheries and livestock production, as well as facilitates a growing ecotourism sector.
In Argentina, tradition, non-merchandised fishing or artisanal fisheries is the main livelihood option. Over 10,000 families along the Parana-Paraguay fluvial corridor depend on artisanal fishing for food and income. Artisanal fisheries, however, is facing severe governance problems like deeply inequitable commercial chains and poor coordination. Such limitations preclude the improvement of their well-being, socio-economic benefits, and pose a threat to maintain the fisheries' sustainability.  In this context, valuing the need to conserve fisheries in a sustainable manner, and to achieve the Corredor Azul Programme goals, we have started to work with different fishermen organisations and build a broad network.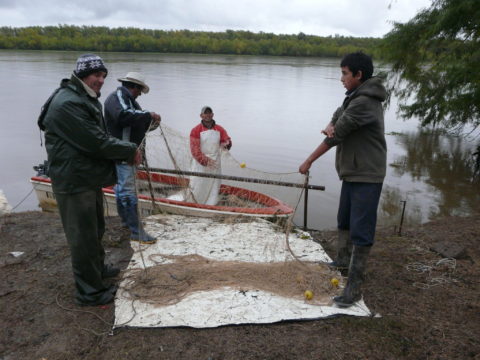 After months of visits and dialogues to build trust , we finally gathered the Parana-Delta artisanal fishermen in a workshop where the "Paraná Delta Artisanal Fishers Network" was launched. The objective of this important initiative is to strengthen local capacities by identifying the problems they face in artisanal fishery sector , exploring  how to improve the situation and discussing empowering strategies.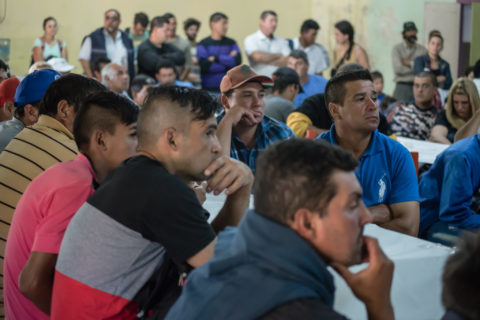 The event was attended by more than 100 artisanal fishermen grouped under small cooperatives and other types of base associations. "Some of the participants had travelled many kilometres to be able to get here," mentioned one of the Parana-Delta fishermen. The workshop included presentation on previous activities and actions by Wetlands International in the Delta such as a participatory mapping, workshops and training in fishery.  Participants were grouped according to their fishing province to discuss common fishing problems. For example, issues like the loss of the fish resources, gaps in the legislation frameworks, obstacles for having economic benefits were discussed and explored as principle problems. "The network would help us to face the main conflicts and problems together," one of the Parana Delta fishermen commented.
At that time, four cooperatives committed to participate in the Corredor Azul Programme and have already drafted and signed joint work-plans identifying priority actions to be implemented in the next phase.