Wetlands International Brazil and partners launch new tool that monitors burned areas in the Cerrado, Pantanal and Amazon
Climate mitigation and adaptation

Corredor Azul

Rivers and lakes

Wetland values, status and trends
On 8 June, Wetlands International Brazil and their partners celebrated a live launch of the platform 'ALARMES', a new tool that provides daily warnings about the burning areas in the Pantanal, Cerrado and Amazon.
The platform is an initiative of the Laboratory for Environmental Satellite Applications (LASA-URFJ), of the Andurá project – which is funded by CNPq/Prevfogo and has the support of IEB, the Partnership Fund for Critical Ecosystems (CEPF), Greenpeace Brazil, WWF-Brazil and Wetlands International Brazil.
ALARMES was developed to serve as a tool for rapid and agile alerts on the extent of the areas affected by fire in order to support environmental agencies in fire fighting actions. The system combines images from NASA satellites, heat sources and artificial intelligence to identify new areas affected by fire, monitoring the location and extension of burned areas on a daily basis, allowing, for example, to understand the speed of increase of affected areas. This information is sent to the agencies for planning and effective action. Other information such as overlapping conservation units, indigenous land and municipalities, and comparison with historical data will also be available.
The launch event was recorded and can be watched here. (Portuguese)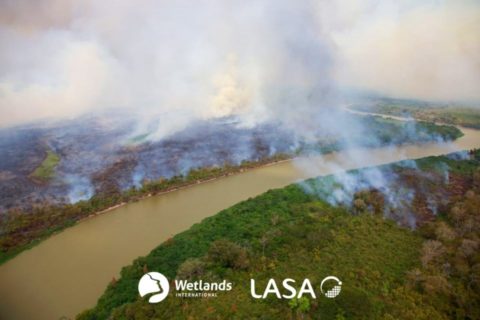 About the partnership with the Environmental Satellite Applications Laboratory (LASA-UFRJ)
In view of the high number of fires that have affected the Pantanal biome in recent years, Wetlands International Brazil signed a Technical Cooperation agreement with the Environmental Satellite Applications Laboratory (LASA-UFRJ), in order to expand the related technical and scientific capacity monitoring and alerting of fires and forest fires in the biome.
LASA's activities are focused on teaching and researching about remote sensing techniques applied to the monitoring of the Earth's atmosphere and surface.
For this technical cooperation, Wetlands International Brazil is providing georeferenced data on fire occurrences in areas in the Pantanal, in addition to sharing experience in Integrated Fire Management, such as in the Kadiwéu Indigenous Territory.
The collaborative and coordinated action between the institutions strengthens the strategies for facing environmental tragedies, helping in decision-making and minimising the impacts caused by fire.