Wetlands International's team is currently working on the 6th edition of the AEWA Conservation Status Report, which summarises the available knowledge about the size and trends of migratory waterbird populations.
Part of this process involves matching sites where waterbirds are counted during the International Waterbird Census to flyways. The process involves allocating over 15 thousand sites to over 550 flyways.
The most time-efficient way of doing this is using a GIS file that includes each flyway. The result not only looks like a work of art, it also illustrates well the core of Wetlands International's flyway work: "Migratory waterbirds connecting wetlands and people".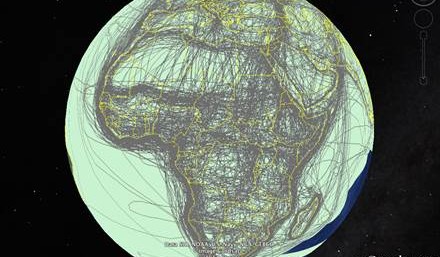 The Agreement on the Conservation of African-Eurasian Migratory Waterbirds (AEWA) is an intergovernmental treaty dedicated to the conservation of migratory waterbirds and their habitats across Africa, Europe, the Middle East, Central Asia, Greenland and the Canadian Archipelago. AEWA was developed under the framework of the Convention on Migratory Species (CMS) and is administered by the United Nations Environment Programme (UNEP).