Building ecosystem resilience to escape a humanitarian crisis in Ethiopia
Building ecosystem resilience to escape a humanitarian crisis in Ethiopia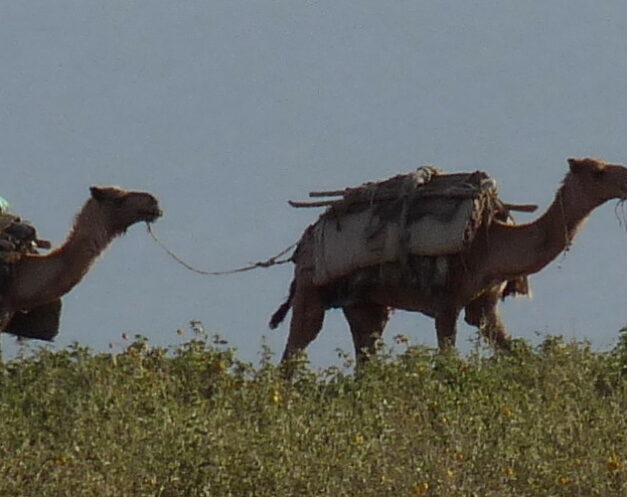 The remote Somali region in northeast Ethiopia is one of the most challenging Sahelian environments we've ever worked in. This is a parched landscape of seasonal rivers and small ephemeral wetlands that is currently facing a severe humanitarian crisis. Years of low rainfall have contributed to one of the worst drought in decades, hitting 10 million people and resulting in permanent water scarcity and semi-permanent famine.
The pastoralists and farmers here are in survival mode. The government and disaster relief NGOs are looking for quick ways to save lives and help avert disaster. A conventional approach is to hand out food aid, goats and other livestock, drill water holes and build check dams to hold water. While providing immediate relief, these actions have a very short time horizon and ignore the underlying issues that are degrading the landscape and permanently eroding the resilience of the people.
Challenges
The land is suffering from degradation, mainly overgrazing and deforestation, causing erosion, damaging the soil and permitting invasive species of vegetation to take over. When the rain does fall the barren soils cause another kind of disaster  ̶  deadly flooding as the wetlands are too damaged to hold water on the land. Heavy rainfall in the region in March 2016 resulted in floods that killed at least 28 people.
The Somali region has always been a dry place, but the soils are rich and the wetlands here have good potential to contribute to water security. The people who live here are highly dependent on their environment and its sparse wetlands for food and water. Instead of quick fixes, we are trying to understand this landscape. We are looking at the natural processes and how they have been degraded and how they can be restored and sustained to create better long term resilience.
To make people more resilient to the shocks and stresses of drought and flood we are:
Training people on wise water use and sustainable landscape management techniques so they become better stewards of the land.
Coordinating large-scale community-based reforestation with trees to reduce floods, droughts and erosion, and retain water in the landscape.
Developing a knowledge base and management plan for the Upper Fafan catchment in the Shebelle river basin that includes the values of ecosystems, along with a governance structure to ensure more sustainable management.
Promoting environmental education by establishing clubs and curricula at schools throughout the Somali region in order to raise awareness and participation in local landscape management
Organising and establishing water user groups around dams and piloting livelihood development opportunities, such as utilising wetlands for fish ponds, fruit cultivation, and bee keeping.
Partners
The Netherlands Red Cross
Ethiopian Red Cross Society
Red Cross Climate Centre