Restoring the abundance of Senegal's Ndiael Special Reserve for people and nature
Restoring the abundance of Senegal's Ndiael Special Reserve for people and nature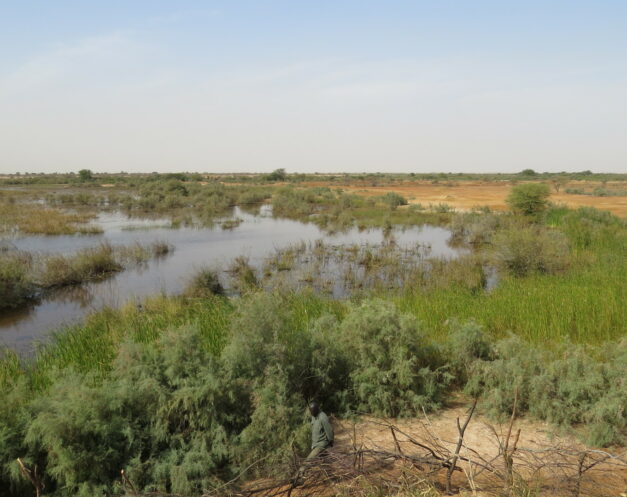 The Ndiael Reserve in Senegal is an oasis of desert wetlands that is internationally recognised for its outstanding nature. Like the birds and the fish here, human living patterns of fishing and subsistence agriculture have been a part of these wetlands for generations. To address the growing competition for land and water that is threatening this important ecosystem, we are bringing back water to the wetlands.
The Ndiael Special Reserve wetlands are islands of green in the semi-desert of northwest Senegal, near the border with Mauritania. This is a landscape of shallow depressions, river tributaries and a few lakes that should fill temporarily in the rainy season. In addition to being listed as a Ramsar site, the Ndiael is also a UNESCO Man and Biosphere Reserve with a mission of improving the relationship between people and their environment.
The Ndiael is one of the most important sites for migratory birds from the temperate and Arctic zones of Europe, and also for intra-African migrants. During the winter it provides critical habitat to tens of thousands of wetland birds on the East Atlantic Flyway.
While sparsely populated by people, agriculture, fishing, and raising cattle support the livelihoods of small communities within this landscape. Restoring this system will boost their livelihoods and the local economy both by increasing the productive capacity of the system and providing increased opportunity for ecotourism and related income.
Challenges
The Ndiael Reserve is a land of many uses. Competition for land and water is growing, degrading this important ecosystem at the core of the reserve. The unsustainable use of resources around the reserve is also threatening the food and water security of the local communities who depend on the many goods and services provided by wetlands for their livelihoods. For example, a majority-owned foreign company has been granted 20,000 hectares of formerly protected Reserve for water-intensive crops. This is a significant concern for both the nature and the 20,000 people living nearby. These communities have previously lacked the capacity to defend their interests from powerful actors.
In recent years, water diversions for agriculture along with droughts from a changing climate have completely dried out the wetlands at the core of the reserve.
Achievements
We are improving water delivery to bring life back to the Reserve;
We are leading the development of a management plan that will guide the restoration of the Reserve with the ambition of removing it from the list of threatened Ramsar sites;
We are holding the large-scale agriculture company responsible for its water withdrawals and impact on the Reserve;
Through our engagement and capacity building, the Africa Development Bank is now poised to undertake a Senegal River Basin project that will build on our work and rewet the Reserve;
We trained our local partners to conduct ecological monitoring and restoration.
Partners
Association Inter Village Ndiael
Forum Civil
Senegal National Parks Service
Senegal Department of Forestry
Senegal River Basin Development Authority
Altenburg & Wymenga