Towards vibrant wetlands in the Mahanadi delta and Kosi-Gandak floodplains, Indian
Towards vibrant wetlands in the Mahanadi delta and Kosi-Gandak floodplains, Indian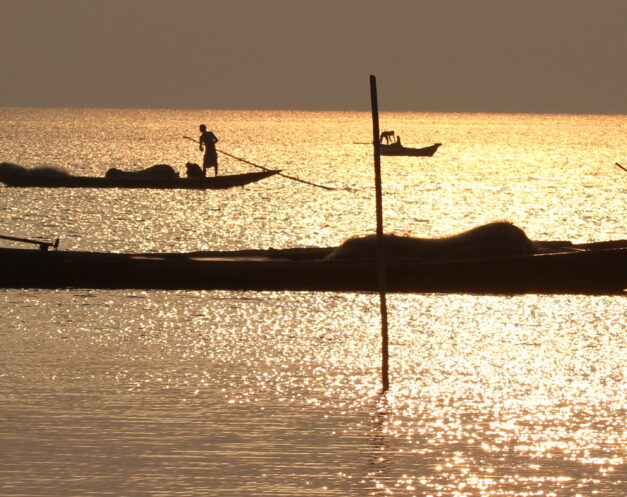 The Mahanadi delta and Kosi-Gandak floodplains in India are not only home to dolphins and turtles, they are also home to more than 21 million people. In these densely populated areas, we restore wetlands and improve water management to reduce the risk of disasters. We help vulnerable communities to adapt to climate change and improve their capacity to bounce back if floods do occur.
The Mahanadi Delta in India covers a coastline of 200 km and is formed by the network of three major rivers: Mahanadi, Brahmani and Baitarini. The central part of the delta is distinct for its extensive plains, the coastal parts contain lakes, creeks, swamps, beaches, tidal flats and mangroves. The delta contains conservation areas, such as freshwater and coastal wetlands, and biodiversity hotspots with a wide range of species including rare and threatened ones. A total of 211 bird species have been identified at the Chilika lagoon, and it supports probably the world's largest population of Irrawady Dolphins.
At the same time, the delta is the ecological and socio-economic hub of the state of Odisha. It supports more than one-third of its population, 68% of which are farmers. The delta is the source of multiple ecosystem services critical to the ecological and economic security of the region.
Challenges
The Mahanadi River delta in Odisha and the Kosi-Gandak floodplains in Bihar are ravaged by floods each year. In addition to floods, the coastal districts of the Mahanadi delta are frequented by cyclones and tropical depressions.
The wetlands in the Mahanadi delta and Kosi-Gandak floodplains formerly served the important function of buffering excess flood waters and acted as water reservoirs during dry periods. Alterations in natural water flows, environmental damage and climate change have increased the frequency and intensity of weather-related disasters for communities living in the delta and floodplains.
Hard infrastructure that was built as a short term solution for flood defense has disrupted the natural linkages between wetlands and water. The delta is now marked with persistent water logging, low agricultural productivity, loss of migratory fisheries, declining incomes, social conflicts, migration and health hazards due to limited availability of safe drinking water and sanitation. Due to climate change rainfall patterns have altered and there is an increased frequency of extreme hydrological events. This makes the life and livelihoods of communities even more vulnerable to flooding.
Achievements
Two partners have integrated resilience into their strategic organisational framework
The district disaster management plan being developed by the national disaster management authority now includes the ecosystem management template and has been introduced in two sites: Puri in the Mahanadi delta and Bettiah in the Kosi-Gandak floodplains
Action Partners:
Red Cross Red Crescent Climate Centre
State government departments of Water Resources, Agriculture, Fisheries, Rural Development
NGO partners: The People, Pallishree, Gramm Unnayan Samity, Researchers, Sanrakhyan
Bottled Water Companies (of which Bisleri Water Company is the lead) which abstract river water for production processes
Other resources: