This weekend, people and organisations all over the world will celebrate World Migratory Bird Day (WMBD). The theme this year is "Destination Flyways : Migratory Birds and Tourism". WMBD was initiated in 2006 and is an annual awareness-raising campaign highlighting the need for the protection of migratory birds and their habitats. Wetlands International is a founding partner in this celebration and we are happy to be joined by an increasing number of partners.
World Migratory Bird Day will be celebrated on 10-11 May 2014 in order to raise awareness and interest in migratory birds and their conservation. Wetlands International offices around the world are joining the activities and showcasing the importance of sustainable tourism for migratory birds and people. Activities to mark the occasion include bird-watching events, educational programmes, lectures and art exhibitions.
According to Wetlands International CEO Jane Madgwick, "Migratory bird species represent one of the great elements of the world's biodiversity. Join us as we celebrate the importance of migratory birds for local livelihoods through sustainable tourism initiatives." Read Jane's full statement.
Destination Flyways: Migratory Birds and Tourism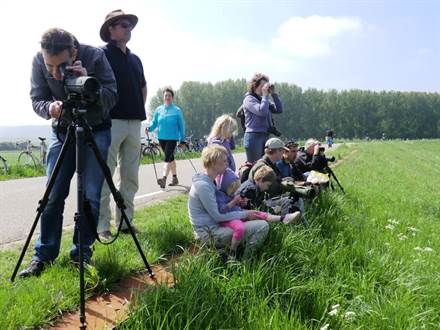 "Destination Flyways: Migratory Birds and Tourism" is the theme for 2014. In partnership with the World Tourism Organization (UNWTO) it will highlight the links between migratory bird conservation, local community development and wildlife watching tourism around the world.
With our local partners we are laying the foundations for sustainable tourism in our activities around the world. Our Destination Flyways with UNWTO and Arctic to Africa initiatives offer unique opportunities to develop sustainable tourism activities at important locations that migratory birds depend on during their annual migrations around the world's major flyways.
Our initiatives
We are highlighting opportunities for sustainable tourism initiatives in several critical locations for migratory birds:
Our awareness raising activities in the Pechora Delta of Russia and Djoudj National Park in Senegal will highlight the links between the local communities and needs of birds along the East Atlantic Flyway.
Activities on the east coast of India will showcase how the amazing Chilika Lake supports nearly a million waterbirds of the Central Asian Flyway.
At the Chongming Dontan National Nature Reserve in China we are working to improve improve visitor and habitat management in important staging areas for migratory birds including in the Yellow Sea region of the East Asian-Australasian Flyway.
More details