More than 100,000 inhabitants in the Sine Saloum Delta depend on the area's bountiful mangroves for their livelihoods; honey production, agriculture, salt extraction and eco-tourism. These mangroves are crucial to maintaining resilience against future disaster, so it's vital that restoration continues.  
This work typically takes place in the community and in the field, with face-to-face training on restoration techniques. With the pandemic, new rules and restrictions mean limited working in larger groups. Wetlands International has been working to support communities through alternative methods, finding a balance between adequately protecting mangroves and enabling local people to enhance their livelihoods based on mangrove natural products.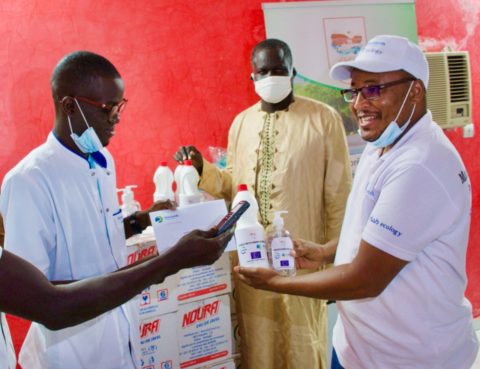 The team has been collaborating closely with local health authorities to monitor the effects of COVID-19, and broadcasting across local radio stations across the delta and providing hygiene products. Through Zoom, WhatsApp groups and direct calls, the team has been able to guide real-time exchange with various stakeholders, share studies and reports, and host workshops.  
Small grants for community groups have been used to support mangrove activities. A group of volunteers has now been recruited and trained as focal points to maintain restoration activities as far as possible. Despite the challenges that COVID-19 has presented, online coordination and local broadcasting is showing that restoration work is continuing effectively.
The one thing we all want for 2021 is to overcome the COVID-19 pandemic. Healthy wetlands are vital lifelines for  people struggling to survive through the pandemic. In this special appeal, we share how Wetlands International is adapting to enable wetland recovery where it's needed most for nature and people – from the Pantanal in Brazil to the Saloum Delta in Senegal, Java and Sumatra, Indonesia and Kumpang in Malaysia. 
You can help Wetlands International continue its work to train communities, rebuild flooded villages and continue coastal restoration in Indonesia. Donate today.