Presentation of the 'Accelerating Adaptation through Building with Nature in Asia' initiative at the Climate Adaptation Summit from January 25-26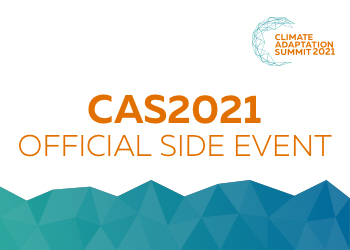 Millions of people in cities and villages along Asia's coasts and rivers are vulnerable to storms, floods, droughts, and rising sea levels. By drawing on ecological knowledge of coastal and riverine systems and learning to 'build with nature', rather than against it, we can transform this vulnerability into resilience.
This event will present 'Accelerating Adaptation through Building with Nature in Asia', an initiative which aims to mainstream nature-based solutions into water infrastructure in Asia. By restoring ecosystems in combination with engineering strategies, we can improve the resilience of landscapes and accelerate adaptation.
The initiative is driven by Indonesia, Philippines, India, Malaysia and China, led by Wetlands International and the Indonesian Ministry of Marine Affairs and Fisheries with EcoShape, One Architecture and the Global Center on Adaptation. It contributes to the GCA's Water Action Track.
Join us and support us!
Government agencies, knowledge institutes, NGOs, development banks and the private sector are key contributors. By working together in multiple countries with multiple disciplines we can boost the adoption of Building with Nature. We invite you to help to shape and support the initiative!
Watch the event on 25-26 January in the Cinema of the Climate Adaptation Summit and share your reflections and feedback using #buildingwithnatureasia.
You can also watch the event here on our website:
Watch the teaser:
Watch the full event (18 minutes)
Speakers:
Engr. Angel Lontok Cruz, Vice Mayor of Hagonoy, Bulacan, north Manila Bay, Philippines
Dr. Annadel S. Cabanban, Head of Office Wetlands International Philippines
Dato' Ir. Nor Hisham bin Mohd. Ghazali Director General, Department of irrigation and drainage of Malaysia
Keizrul bin Abdullah, Regional Coordinator Building with Nature Asia, Wetlands International Malaysia
Undersecretary for Finance, Information Systems and Climate Change, Atty. Analiza Rebuelta-Teh, The Department of Environment and Natural Resources (DENR) of the Government of the Philippines
Hendra Yusran Siry, Secretary of Directorate General of Marine Spatial Management, Indonesian Ministry of Marine Affairs and Fisheries (MMAF)
Daniel A Friess, Professor, National University of Singapore (NUS)
Justine Shapiro-Kline, One Architecture (ONE)
Warthane Puvanarajah, German Embassy in Indonesia on behalf of the German Federal Ministry for the Environment, Nature Conservation and Nuclear Safety (BMU)
Liz van Duin, Director Water, Soil and Marine policy, Dutch Ministry of Infrastructure and Water Management
Tom Panella, Director Environment, Natural Resources and Agriculture Division, Asian Development Bank
Luca Sittoni, Programme manager, EcoShape
More information: Accelerating Adaptation through Building with Nature in Asia