Little progress on HFAII – 6 targets agreed and now starting with the difficult issues;  Focus on the role of addressing mismanagement of water resources as 95% of disasters are water-related; Invite to tomorrow's event: Preventive action in water-related DRR, building an international coalition for integrated delta management and resilience.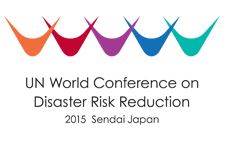 Providing daily news, blogs and updates on ecosystem solutions for reducing disaster risk at the World Conference on DRR, 14-18 March in Sendai, Japan. Our experts in Sendai are available for background and interviews. CONTACT: [email protected] and marie-jose[email protected]. Phone: +31622624702. Follow us on Twitter @wetlandsint
————————————————————————————————————————————————–
What happened on Sunday 15 March in Sendai:
Negotiations Post-2015 framework for DRR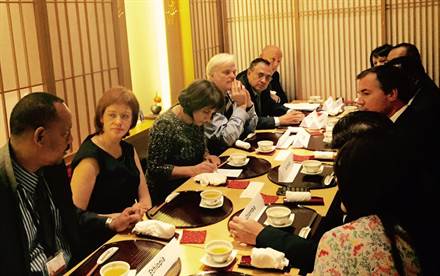 Little progress was reported on the negotiations for a new UN framework for Disaster Risk Reduction. The Thai co-chair even stated that this negotiations process is a disaster. Later in the day however agreement was achieved on 6 targets and a start was made on the difficult issues. Wetlands International hopes that Parties are able to solve key obstacles and that the role of ecosystems, land and water management remains a central in part of the agreement.
Picture: Key players including Minister Ploumen of Foreign Trade and Development Cooperation from the Netherlands are meeting trying to solve the Disaster Risk Reduction negotiations puzzle. Photo by Marc Gerritsen.
Eco-DRR events on Sunday 15 March: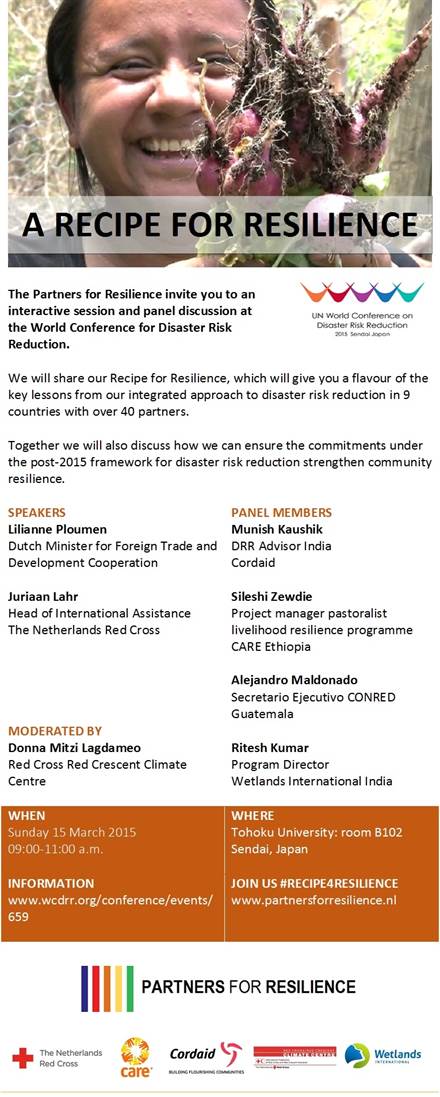 Dutch Minister Lilianne Ploumen (see above picture) spoke in the 'Recipe for Resilience' event from the Netherlands Red Cross, CARE Netherlands, Cordaid and Wetlands International (Partners for Resilience). She said that our integrated ecosystem and climate smart DRR programme amplifies the voice of civil society and communities to hold governments & companies accountable. The event presented the experiences from DRR work by the coalition over the past 4 years in nine countries (see position paper).
In the same event, Ritesh Kumar from Wetlands International South Asia explained that the approach to disasters must transform from being reactive to preventive. For this a long term and systemic view of risk needs to be taken, in which it is fundamental to recognize that communities who are the focus of risk reduction efforts have their existence linked with ecosystems, which provide the basic fabric of their life and livelihoods. He presented the Partners for Resilience program in India in which ecosystem based DRR approaches provide opportunities for building resilient futures.
The plenary session Integrated Water Resource Management by the Government of Japan, Namibia, Switzerland and the Netherlands and UN Water, highlighted that 95% of the people affected by disasters is due to water-related disasters such as floods, droughts and landslides. While climate change may lead to increased intensity and frequency of disaster, it is often caused or exacerbated by the mismanagement of land and water resources and hence this must be a main focus of DRR interventions. Jos van Alphen from the Dutch Delta Commission highlighted Building with Nature as adaptive measure for long term resilience in water management.
The plenary session Ecosystems Management & Resilience by UNISDR, CBD, IUCN, Wetlands International, and the PEDRR Network) explained that the loss of mangroves, wetlands, biodiversity and their ecosystem services translates to increased disaster losses and slower recovery in urban and rural areas alike. Drivers of ecosystem degradation include land conversion for urban growth, agriculture and infrastructure as well as extractive industry.
The session explored entry points to upscale action for integrating ecosystems in DRR. The design of partnerships between science, business, investors, government and communities was seen as essential to enable better risk identification on both landscape and community levels and implementation of solutions that restore and protect ecosystems that are the roots of resilience.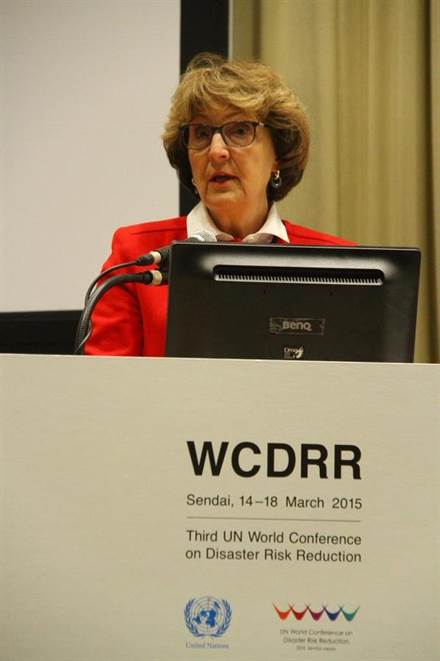 Princess Margriet, ambassador of Red Cross and in Sendai on special invitation by Margareta Wahlström, said that that unless we address challenges like climate change, degradation of the environment, and bad use of land, we will fail in our global ambitions to prevent suffering, reduce poverty and enable sustainable economic growth for all. She said that international finance must reach those who can implement the solutions that build on natural capital, rather than destroy it. She emphasized that this needs new partnerships and congratulated Red Cross for going beyond local efforts into addressing the root causes of risk including its intimate connections to the natural environment by partnering with Wetlands International.
Jane Madgwick, CEO of Wetlands International highlighted the need to make the business case for ecosystem based DRR through innovative pilots and evidences (such as the public private partnership Building with Nature Indonesia).
————————————————————————————————————————————————–
Outlook for Monday 16 March in Sendai:
Eco-DRR events Monday 16 March:
18:00 – 20:00: Public forum – Preventive action in water-related DRR, building an international coalition for integrated delta management and resilience. Co-hosted by the Netherlands, Colombia and Japan, Venue: B103, Kawauchi-Kita Campus, Tohoku University, Sendai, Japan
Take some time tomorrow to visit the PEDRR booth 5-16, Sendai Mediatheque 5F/6F.
————————————————————————————————————————————————–
New resources on Eco-DRR
More information on WCDRR Sendai and Ecosystem-based DRR: