Live from New York, it's…

the Building a Resilient Future event!!
Consisting of a wide variety of sessions and side events, it was my honour to moderate the blue-green infrastructure break-out table in the Cities, Infrastructure and Energy session,  (Sunday 22-9-2019).
After Fred Boltz of the Global Centre on Adaptation, introduced the three priorities of the Water Action Track of the Global Commission on Adaptation, it was my turn. Attracted by the table's theme, I was joined by experts from Indonesia, France, Israel, the Red Cross Red Crescent Climate Centre and a North American landscape architect working along the Mississippi River.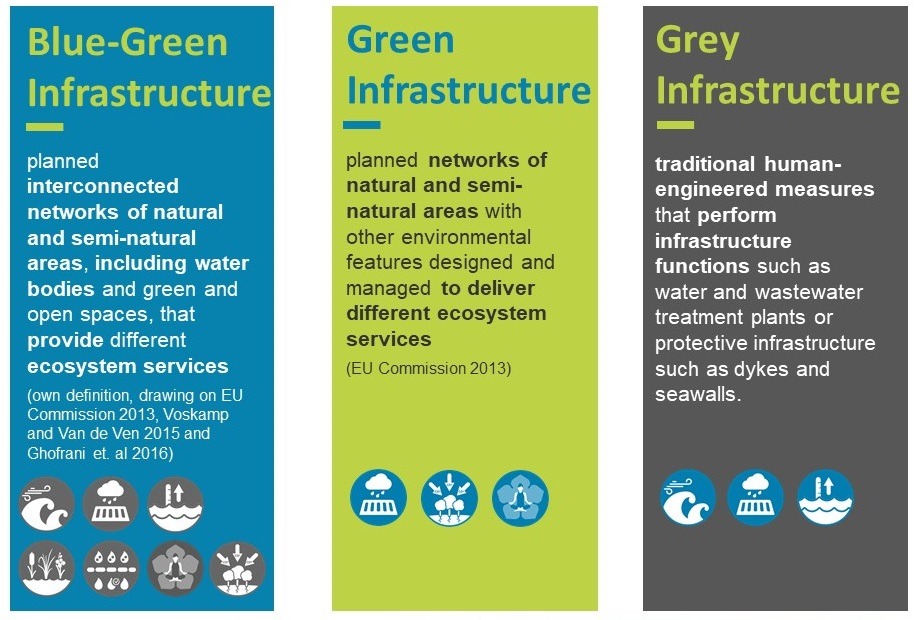 So what's the difference between conventional or 'grey' infrastructure and green and blue-green infrastructure? The difference with 'grey' is clear; these are mostly measures engineered with a single-purpose, for example, levee walls or storm drains. Green and blue-green infrastructure, include natural features that deliver 'ecosystem' services, thereby fulfilling their multiple purposes. Green and blue-green infrastructure includes another important aspect. They are, as stated in the European Commission's definition (figure above), part of an interconnected network of areas and measures. These networks allow water to flow, biodiversity to move or migrate and even people to recreate or transport.
A good example is a linear park along a river. The river flows crisscross through a city and is lined by floodplains that have been integrated into the city fabric by, e.g. walking and cycling lanes. The rivers network is expanded throughout the city via a series of bioswales that filter water and channel it towards the river. The bioswales can, in turn, be fed by runoff from the streets, as can green or blue roofs by rainfall. All these measures together provide a variety of additional ecosystem services, such as slowing down and temporarily storing water, delaying runoff into a city's drainage system or rivers and thereby reducing peak flow during storm events, and consequently reducing flood risk.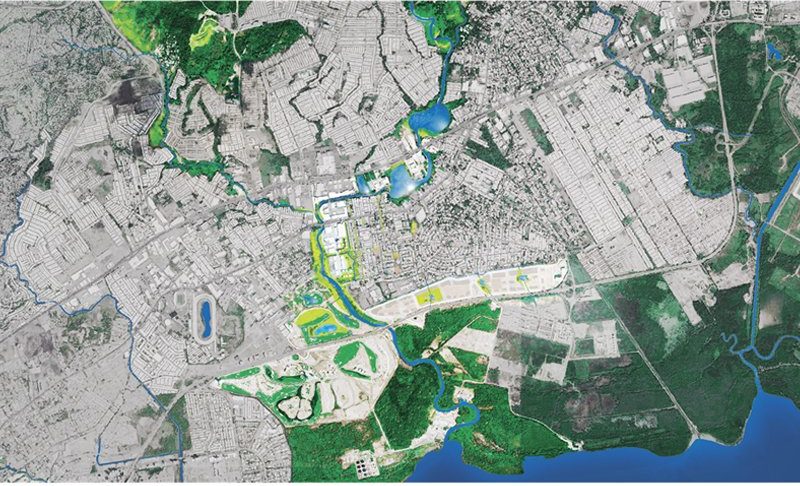 The breakout table participants identified a number of additional separate green or blue measures for disaster risk reduction, such as urban wetlands against heat waves, and rooftop agriculture. The understanding was that, once these are connected to a wider network of measures, they can be considered blue-green infrastructure. A great take-away from the table!
This takeaway fits perfectly in the Water Action Track of the Global Commission on Adaptation. They combine both the watershed approach and the focus on resilient cities. Working with our partner ONE Architecture & Urbanism we are committed to the design and implementation of networked blue-green infrastructure, to build liveable and climate resilient cities.
Sander Carpay
Urban Resilience Coordinator