Urban wetlands provide a whole suite of ecosystem services thereby contributing to safe, healthy and thriving cities. They protect cities from floods, droughts, provide cooling against heat stress, as well as recreational area, biodiversity habitat and sources of livelihoods; they are key assets of blue-green infrastructure that contribute to climate change adaptation.
Wetlands and urbanisation
Cities are growing in size and production and are expected to account for nearly 7 billion people or two-thirds of the total global population by the year 2050 and over 90 percent of this increase will occur in the urban areas of low-income countries, especially in Africa and Asia. The 600 major cities in the world are expected to provide 60% of global GDP (Ritchie (2018). This growing urban population has a huge impact on cities, their surroundings and their micro-climates. Many of the world's cities are located in wetland landscapes, such as floodplains, estuaries, and coastlines, benefitting from their ecosystem services. However, with urbanisation many of these wetlands are degraded or lost as are these life supporting services, increasing disaster risk.
Wetland solutions
Therefore, at Wetlands International, we work with architects, urban planners, local governments and international financiers to incorporate urban wetland into urban planning, protect and restore urban wetlands as biodiversity habitat and promote urban wetlands in urban water infrastructure development and climate change adaptation.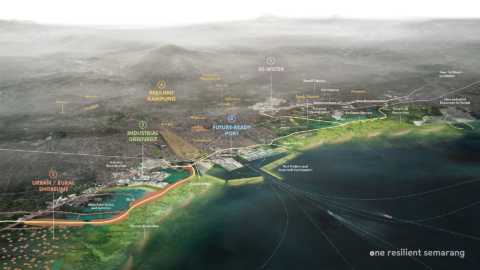 Water regulation for climate resilience
Urban wetlands store excess water from rivers or neighbourhood runoff, releasing it gradually after peak events such as thunderstorms of river peak flow coming from upstream. Incorporating urban wetlands into climate change adaptation and resilience strategies, as well as water infrastructure development, they enable cities to become more climate-resilient. Our work includes cities like Semarang, Chennai and Panamá City.
Water treatment and livelihoods
Furthermore, through its vegetation urban wetlands are natural filters of this water and provide it for livelihoods. For example, the East Kolkata Wetlands in India absorbs the city's runoff thereby preventing water logging; it also treats the city's sewage or grey waters, while producing over 15,000 MT of fish and 12,000 MT of vegetables annually. There we have developed a wetland management based on the resource recovery practices of the vulnerable populations first.
Cooling down urban heat
Furthermore, we have assessed the cooling effect of urban wetlands to reduce urban heat islands. For example, in Colombo, Sri Lanka, urban wetlands reduce the Urban Heat Island effect (UHI) by 10 ◦ C on the hottest moment of the day (World Bank, 2018). We have developed a brochure and compendium guide on urban wetlands for heat island reduction, for urban planners' use. Read more on the Urban wetlands for cooler cities page.
Urban wetland parks
With pandemics such as Covid-19, the need for recreational outdoor space was highlighted, while ecosystem restoration and management, including urban wetlands, can be a key part of a green recovery. Urban wetlands restoration and conservation action can generate jobs and wetland parks can generate revenue from tourism, increased property value and related taxes due to urban wetland proximity. In China's Hangzhou Bay, we supported the Cixi government in restoring part of the bay and established a wetland park mobilizing a multi-million dollar investment for a visitors and education centre. This example has inspired many more cities in the People's Republic of China to do the same, so that these urban wetland parks can serve as recreation areas contributing to health and the educational centres inspire young and old, with cultural events bringing people closer to nature.
Constructed wetlands
Sometimes restoring wetlands is not enough and constructed wetlands need to be design to store, treat and provide water. While these are the main functions of a constructed wetlands, we aim to make them the most natural areas as possible. In Malaysia, constructed wetlands are gaining popularity for the treatment and storage of storm waters, urban runoffs and agriculture effluents and also because they provide pleasant surroundings to live and work in. We have developed the Q&A To Constructed Wetlands handbook and applied it throughout Malaysia.
Further reading:
Publications: