Faced with the complex challenges of urban water, it has become clear that there is a lack of an inclusive and holistic approach. Innovation is needed to realise wise investment, after all, "it takes millions to invest billions wisely". Under the leadership of the Netherlands Special Envoy for International Water Affairs, Henk Ovink, the Water as Leverage programme provides such an innovation. The comprehensive approach consists of a process of engagement, that aims to be stakeholder inclusive. The goal, facilitate the development of bankable, sustainable innovations for climate resilience and generate the necessary investments for integral urban water projects. These locally developed and supported projects will provide real and sustainable climate resilience in cities facing major water challenges made worse by climate change.
Water as Leverage started as a competition for the best integrated, multi-sectoral proposals to tackle the complex urban water problems in Chennai (India), Khulna (Bangladesh) and Semarang (Indonesia). For the competition, two design teams were selected for each city. Each challenged to develop the best proposals for bankable and implementable projects. These proposals were then connected to funding opportunities and (co-)financiers, such as AIIB (Asian Infrastructure Investment Bank) and FMO (The Netherlands Development Finance Company). Bankability was evaluated by requiring the inclusion of a feasibility component and preliminary costs benefits analysis.
Crucial in moving the results of the call further towards implementation are the cities themselves and the Netherlands Enterprise Agency (RVO.nl), in close cooperation with AIIB and FMO. The AIIB and FMO help identify bankable projects, support their development and open their capacity for implementation. Partners for Resilience has been a key role as Knowledge Partner, assuring community involvement in project development.
The ambition of Water as Leverage is to become a multi-city programme, globally generating multiple, bankable climate resilience projects. [1]
Wetlands International joins Water as Leverage in the city of Semarang (Java, Indonesia), bringing with it its expertise from the adjacent Demak "Building with Nature" project as well as knowledge from participatory processes in Panama and management of other wetland regions worldwide.
Water as Leverage: The design process:
ONE Resilient Semarang design team
Through a robust analysis and stakeholder workshops, the design teams develop their multi-million dollar water infrastructure project proposals. Based on their research and stakeholder engagement, the multi-sector ONE Resilient Semarang design team, led by ONE Architecture & Urbanism with Wetlands International, Deltares and the local NGOs Kota Kita and Hysteria, proposes a vision for the coastal part of the city that includes the restoration of a mangrove "Green Belt" and other blue-green infrastructure. This is coupled with planned harbour expansion, industrial areas and seawall-toll road that the Indonesian Government is already developing.
Challenge: Dealing with Soil subsidence in Semarang
For any one of the two competing projects to be successful, the problem of soil subsidence must be tackled. Soil subsidence is not a new phenomenon for Semarang. Reports if its occurrence date back for more than 100 years. Elevation (levelling) surveys conducted by the Centre of Environmental Geology from 1999 to 2003 showed that substantial subsidence had occurred around Semarang Harbor, Pondok Hasanuddin, Bandar Harjo and Semarang Tawang Railway station. Results derived from GPS data show that, in general, subsidence rates in Semarang have an average rate of about 6 to 7 cm/year, with maximum rates up to 14-19 cm/year at specific locations. The impact of land subsidence in Semarang is visible in several forms, the broader expanse of (coastal) flooding also known as "rob flooding," cracking and sinking of buildings and infrastructure and increased inland seawater intrusion. These processes have significant negative consequences for the quality and amenity of the living environment (e.g., health and sanitation conditions) in the affected areas.[2]
Design Solution:
To address soil subsidence, a spin-off project was devised as part of the Building with Nature project in Demak. The "Soil Subsidence Water Dialogues," will start working towards the objective of mitigating subsidence in Semarang & Demak's coastal zone by 2030. The goal is to formulate a roadmap, involving all actors in the wider watershed, with the express aim of reducing groundwater extraction, recharging the underground aquifer and optimising surface water use and recycling.
[1] RVO, 2018: Water as Leverage for Resilient Cities: Asia, Call Document. https://english.rvo.nl/subsidies-programmes/water-leverage
[2] Heri Andreas, Hasanuddin Z. Abidin, Irwan Gumilar, Teguh Purnama Sidiq, and Bambang Yuwono. Adaptation and mitigation of land subsidence in Semarang, AIP Conference Proceedings 1857, 060005 (2017); https://doi.org/10.1063/1.4987088
Photo on the banner: Illustration of 2030 vision for Demak's eroded coast with the city of Semarang on the right, as part of the Demak "Building with Nature" project.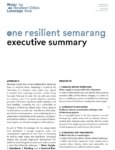 ONE Resilient Semarang Final Executive Summary
download